Feds Conduct Probe of Electronics Maker
Monday, May 16, 2005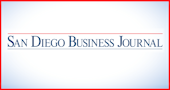 BY BRIAN WOMACK
Electronics used in radios to find downed military pilots have an Anaheim unit of defense contractor L-3 Communications Inc. under a criminal probe that's touched on two other local circuit board makers.
The Justice Department and the Pentagon are looking into Interstate Electronics Corp. for circuit boards it supplied to Boeing Co.'s Anaheim unit for hand-held radios.
L-3 has four units in San Diego, none of which is involved in the investigation.
Investigators are looking into whether Interstate knew about problems with the boards and delayed notifying military officials.
Interstate sent a letter to Boeing in July citing potential issues with some boards, according to a Boeing spokesman. Boeing recalled some 1,400 radios and replaced the boards, the spokesman said.
Investigators haven't contacted Boeing as part of the criminal probe, he said. The company continues to supply radios under a contract worth $186 million, he said.
In December, a federal search warrant was issued for Interstate's facility near State College Boulevard and Katella Avenue, according to a Justice Department spokesman in Los Angeles.
Interstate is the largest of L-3's Orange County businesses, making up a big chunk of the company's 800 workers here.
Two other electronics makers, Santa Ana-based TTM Technologies Inc. and the Costa Mesa facility of San Jose's Sanmina-SCI Corp., were cited in a Pentagon notice about potentially defective circuit boards.
Both companies were tapped by Interstate to help produce boards for the Boeing radios, which pinpoint downed pilots without giving away their location to the enemy.
The Interstate probe also is looking at whether some of the electronics in question ended up in weapons systems such as precision guided artillery shells, according to the Wall Street Journal.
"We continue to fully cooperate with the U.S. government's inquiry, which is centered upon an issue with components supplied by a (Interstate) subcontractor," L-3 said in a statement. "We are working to resolve the issues affecting this component and continue our work to support this program."
In a statement, TTM said the boards it supplied to Interstate passed internal tests. The company said it later found that the thickness of copper plating was below specifications.
TTM said it didn't know if the lower copper level impacted the function of the boards.
A Sanmina spokesman told the Wall Street Journal the company hasn't been accused of wrongdoing in the probe.
In a conference call last month, Frank Lanza, L-3's chief executive, said mistakes were made but denied the company did anything criminal.
"Nobody was hiding anything," he said.
L-3's own inquiry into the matter found "no smoking gun," Lanza said.
Interstate did err by not warning the military right away about issues that came up in testing, Lanza said.
"The judgment factor of not reporting that problem to the customer is not acceptable, and we have to tighten up, and we have," he said.
Initially, Interstate shipped two batches of circuit boards, about 2,000 in all, to Boeing, Lanza said during the conference call. There were no problems with those, he said.
Last year the company provided a third batch of boards, according to Lanza. Interstate found the parts "were having major problems" in the test phase and stopped production, he said.
L-3 found that records for some boards didn't "jive" with reports provided by TTM, Lanza said. Interstate addressed the issue with TTM, he said, and 45 days passed without action.
Lanza said he's met with Pentagon officials, and others at L-3 have met with the Defense Criminal Investigative Service.
News of the probe became known in late March and led to a one-day 6 percent drop in L-3's shares. The stock regained some ground in April and was flat for the year as of early May.
Government probes are common for defense contractors. The criminal nature of the probe likely startled investors early on.
The probe shouldn't prevent L-3 from vying for contracts, according to Peter Arment, aerospace analyst at JSA Research Inc. in Newport, R.I.
Brian Womack writes for the Orange County Business Journal.