Competition Closes for Stem Cell Research HQ
Monday, May 9, 2005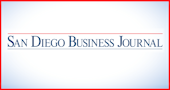 In what seemed like a marathon dominated by one strong contender , San Francisco , with Sacramento and San Diego in close pursuit, the statewide competition to land the headquarters for California's new stem cell institute was expected to end May 6, after the
San Diego Business Journal
's press time.
The institute will have 50 employees who will oversee dispersal of $300 million a year during the next 10 years in taxpayer-backed grants for research and facilities.
None of the employees will actually conduct experiments that voters approved in the hope that scientists will develop groundbreaking therapies for diseases such as Alzheimer's and Parkinson's disease, cancer and heart disease and spinal cord injuries.
On May 6, the institute's 29-member oversight committee was expected to name the winning city.
San Diego city officials , including representatives from the San Diego Regional Economic Development Corp., Biocom, the local life sciences trade group, and UCSD Connect, a trade group helping biotech and high-tech entrepreneurs get off the ground , earlier criticized the way San Diego was evaluated and ranked in a very detailed scoring system.
The process started in March with several cities and counties submitting bids that offered millions of dollars in incentives, including free rent for 10 years and free office space, while some bids included additional laboratory space, steep discounts on hotels and conference facilities and access to health club facilities.
The field was narrowed to 10 proposals and whittled down to four finalists , San Francisco, Sacramento, San Diego and Emeryville, the site of the institute's temporary headquarters , arriving at three finalists.
On March 25, the committee's eight-member site search subcommittee voted to adopt a combined scoring system that added the first preliminary incentive-laden evaluations worth 200 points to a second scoring card worth 90 points.
The second was based on evaluations made during actual site visits by the subcommittee members, which included two San Diegans , Richard Murphy, the president and chief executive officer of La Jolla's Salk Institute, and Dr. John Reed, the president and chief executive officer of La Jolla's Burnham Institute.
On May 2, following three days of site visits, the final score stood at San Francisco in the lead with 222.75 points, followed by Sacramento with 200.5 points and San Diego with 199.8 points.
Some visitors gave San Diego's site on Torrey Pines Mesa high marks for its concentration of research institutions and biomedical facilities, community and business support, and the view overlooking the Pacific Ocean and Torrey Pines Golf Course.
Others said they preferred San Francisco's location near SBC Park, home of the Giants baseball team, its urban sophistication, international draw, and access to public transportation, restaurants and shops.
Some visitors praised Sacramento, which compared with San Francisco and San Diego, is more affordable and allows easy access to the state lawmakers.
Committee members on May 2 were supposed to decide on a No. 1 choice and a runner-up based on the composite scores.
Because San Diego ranked so close to Sacramento, members recommended three finalists to the full board.
For one prominent stem cell scientist, however, the real competition isn't about the headquarters, but what's next.
"I think that for the actual conduct of the science it really does not matter where the headquarters is," said Dr. Evan Snyder, program director for stem cell biology and regeneration at La Jolla's Burnham Institute.
Snyder said he and other leading scientists working at institutions on the Torrey Pines Mesa have been holding weekly meetings, exchanging ideas for scientific concepts and brainstorming grant proposals for some time.
"We will apply jointly (for grants) as a La Jolla community," Snyder said.
He expects other regions to pool their best scientific brains as well in an effort to land funding.
While no one knows what the actual requests for applications will look like and which projects will receive funding and how much, planning for it is critical, Snyder said.
Like the city boosters who ran long and hard to try to win the institute's headquarters, he predicts scientists will need to endure in their own long race to bring coveted research grants home.
"I think it will be a very tough competition," Snyder said.