San Diego Still in the Running for Stem Cell Center
Monday, May 2, 2005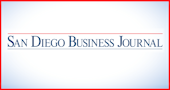 San Diego's chances of hosting the prestigious California Institute for Regenerative Medicine improved after a site selection committee on Monday gave its proposed headquarters the highest score among four competitive site visits, pushing it into the final three.
However, San Diego still ranks behind San Francisco, though it drew into a virtual dead heat with Sacramento after the Independent Citizens' Oversight Committee's site search subcommittee announced its choices Monday.
Emeryville remained in fourth place for the institute, which will be responsible for doling out $3 billion in stem cell research grants.
Based on the subcommittee members' recommendations to the full board of the Independent Citizens' Oversight Committee a winner is expected to be announced on May 6, when they meet in Fresno.
The first scorecard was based on an incentive-laden scoring system worth 200 points.
The second was based on evaluations made during site visits of the four locations on Friday, Saturday and Sunday and was worth only 90 points.
Visitors gave San Diego's site on Torrey Pines Mesa high marks for its great concentration of research institutions and biomedical facilities, community and business support, and for the city's high quality of living.
Though some visitors said they preferred a more urban surrounding with access to public transportation, restaurants and shops nearby, a tour of Torrey Pines Mesa on May 1 won the day as San Diego's backers had predicted.
San Diego visitors gave the site 72.8 points out of 90, bringing the combined total to 199.8 points.
That is still far behind San Francisco, which gained 64.75 points during its site visit, bringing its combined total to 222.75.
But San Diego was ranked very close to Sacramento, which took 65.5 points during the site visit evaluation, bringing it to 200.5 total. Emeryville's total is 171.7 points.
Committee members Monday were supposed to decide on a No. 1 choice and a runner-up based on the composite scores, and then forward their recommendations to the full board.
Because San Diego ranked so close behind Sacramento, members voted Monday to recommend three finalists to the full board instead of two.
Each finalist will have the opportunity to make a 10-minute presentation to the full committee on May 6.
Joseph Panetta, president and chief executive of Biocom, the San Diego-based life sciences trade association, said he's excited about the opportunity to present San Diego's case for the last time.
"They will really hear what San Diego has to offer," Panetta said.
-- Marion Webb