Biocom Announces New Board Members
Friday, March 25, 2005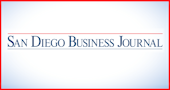 Biocom, the local biotechnology industry association, has named Jack Leif the chairman of its board. Leif is chief executive of Arena Pharmaceuticals Inc.
M. Wainwright Fishburn Jr., a partner at Cooley Godward, LLP, will be vice chair.
Greg Lucier, the chairman and chief executive of Invitrogen Corp., will be the board's vice president for industry. Stephen Ferruolo, a shareholder with Heller Ehrman White & McAuliffe, LLP, will be the board's vice president and general counsel. Susan Atkins, the chief executive of Atkins and Associates, will be vice president and secretary.

New members on the 50-member Biocom board include Dana Di Ferdinando of Science Applications International Corp., Larry Fitch of the San Diego Workforce Partnership, Mary Lyons of the University of San Diego, Randall Woods of NovaCardia Inc., and Kleanthis G. Xanthopoulos of Anadys Pharmaceuticals, Inc.
Joe Panetta is Biocom's chief executive.
Brad Graves