The Truth Takes a Hit
Monday, March 21, 2005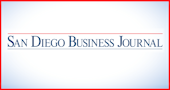 San Diego officials have made numerous overtures to police themselves, yet it all appears rather hollow when the chief whistle-blower in the city's billion-dollar pension fund scandal is rejected in her bid for reappointment to the board overseeing the retirement fund.
Diann Shipione, who wanted to remain on the San Diego City Employees' Retirement System board, was left off the panel during the City Council's selection process last week. Mayor Dick Murphy said he wanted a fresh slate of appointees, yet Shipione's snub sends another ominous message to whistle-blowers everywhere: We appreciate your conscientious effort to right the wrongs, now please go away.
There's no question Shipione was qualified to remain a member of the pension fund board. She works for UBS Financial Services as vice president of investments and has been a panel member since the late 1990s.
Yet, since she called attention to the city employees' pension fund problems in public testimony in late 2002, Shipione has been subjected to ridicule and dubious attempts to make reappointment to the board nearly impossible.
At least one City Council member sought to dress up a November ballot measure aimed at reforming the beleaguered pension fund board by adding last-minute language prohibiting industry experts such as Shipione from appointment to the panel. Shipione also was subjected to the threat of a citizen's arrest late last year when she attempted to attend a meeting of pension fund executives held behind closed doors.

Though she was often frustrated by the process and lack of cooperation, Shipione's evidence proved to be accurate. It eventually drew the attention of the national news corps, which stuck San Diego with the embarrassing moniker of "Enron-by-the-Sea."
Her accusations, along with the media attention, ultimately forced local politicians to admit there indeed was a severe problem with the pension fund in the midst of a heated mayor's race. City officials scrambled for quick fixes to assuage scathing public opinion, finally promising to follow the guidelines set down by the Sarbanes-Oxley Act of 2002 that established corporate governance laws in the wake of the Enron and WorldCom scandals.
Such reforms garnered high praise for Shipione among activists and watchdog agencies. She also had pockets of support in City Hall. But it was not enough.

It now appears that the 13-member pension board, though armed with a new set of guidelines in the wake of Proposition H's approval by a two-thirds margin in November, returns to ground zero. The new commitment to background checks and stringent rules also apparently caused two candidates to back out after their appointments to the panel.
Whether a new Diann Shipione , someone willing to ask the tough questions and face the withering criticism as the $1.37 billion pension fund mess continues to unfold , emerges from the newly seated panel remains to be seen. Perhaps the tepid support Shipione received from fellow board members actually speaks volumes to that concern.
Rather than drawing unanimous praise, Shipione, as seems to have been the case with most every other whistle-blower, has been roundly criticized for her actions. Despite that, Shipione can leave her position as a pension board member knowing she did the right thing.
The truth hurts, as both city officials and Shipione have learned. In this case, the truth was bruised, bloodied and bullied.

Yet without her desire to do what's right, it's quite possible the full depth of the pension fund scandal may have never come to light. Shipione has acted as a true public servant, looking out for San Diego's best interests.
Let's hope we've not heard the last from her.
, Rick Bell