FDA Approves Amylin Diabetes Drug
Wednesday, March 16, 2005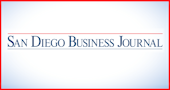 Amylin Pharmaceuticals announced March 16 that its diabetes drug Symlin was approved by the U.S. Food and Drug Administration.
The San Diego-based company said that Symlin, or pramlintide acetate, will be made available in 90 days for patients with type 1 or type 2 diabetes who aren't able to control their blood sugar levels with insulin alone.
"The approval of Symlin, a first-in-class therapy, is a major milestone for Amylin Pharmaceuticals," said Ginger L. Graham, Amylin's president and chief executive.
"It is the result of 18 years of research in diabetes."
The firm is scheduled to hold a conference call at 8:30 a.m. March 17 to discuss commercialization plans.
Trading of Amylin shares was briefly halted March 16. But in after-hours trading, Amylin stock jumped $4.47, or 22.9 percent, to $24.
Amylin's stock trades under the ticker symbol AMLN on the Nasdaq stock exchange.
Marion Webb