Small Biz Gets A Treat From Area Senator
Monday, June 27, 2005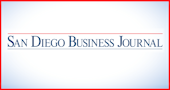 The Treatery, an ice cream and candy store in Chula Vista, was recently selected as the Small Business of the Year for California's 40th Senate District.
State Sen. Denise Moreno Ducheny, D-San Diego, honored Treatery owners Allan and Monica Haber at a Sacramento luncheon sponsored by the California Small Business Association. The district encompasses parts of San Diego and Riverside counties and all of Imperial County.
The Habers, who have been Chula Vista residents for nearly 20 years, received the award because of their involvement in the community.
"We work in the community and live in the community," said Allan Haber.
While recognition from Ducheny has been a boost, the Treatery, which has been in operation for nearly a year now, is still struggling to find its place in the market.
"I projected we would do $40,000 more (than we did in our first year). But we are hoping for a larger increase in the coming year," Haber said. "Every day we get new people. We want to establish ourselves as a traditional treat place."
The Treatery, which employs a staff of five, hopes for a 20 percent to 30 percent increase in revenues in the next year, he said.
While opening a new business has been tough, staying active in the community has helped maintain and generate business, Haber said.
"Instead of paying $100 to $200 for an ad, we do a fund-raiser," Haber said. "We are trying to help the schools, as they are always suffering for money and it is a benefit for us."
- - -
Accessing Capital: After handling a business's day-to-day operations, there is little time for small-business owners to think about growth and expansion. But growth is what sets businesses apart; from those who survive and those who can't keep up with the competition.
For small businesses, access to capital, which helps them reinvest in their company and pay salaries, is a necessity. Now small businesses have a better chance at securing that money.
An amendment to the Science, State, Justice and Commerce Appropriations bill, which passed on June 15 in the House of Representatives, will help preserve funding for the Small Business Administration's 7(a) loan guarantee program by providing $79 million.
Funding for the SBA's flagship program, which provides 30 percent of all long-term loans, was eliminated last year due to budget cuts.
"This funding will be leveraged by commercial lenders to allow some $16 billion in financing for our nation's small businesses and provide continued stimulus for our local economies," said Camden Fine, the president and chief executive of the Washington, D.C.-based Independent Community Bankers of America, in a press release. "Supporting the SBA's 7(a) program means more small businesses will benefit from lenders making SBA loans, creating or retaining up to 500,000 jobs for hard-working Americans."
The amendment must still pass through the Senate.
Send small-business news to Lisa Kovach via fax at (858) 571-3628 or e-mail at lkovach@sdbj.com. Call her at (858) 277-6359, Ext. 3107.