Local Student Loan Business a Family Affair
Monday, June 27, 2005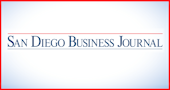 With a June 30 deadline looming to lock in lower fixed rates on consolidated student loans, the people at Goal Financial LLC are busier than ever.
The San Diego-based lender specializes in making federal guaranteed student consolidation loans, essentially refinancing multiple student loans at variable rates and converting it to a fixed rate over the full term.
"We had a record week last week and this one coming up we should break that record in terms of loan applications," said Ryan Katz, Goal Financial's chief executive and co-founder.
Three-year-old Goal Financial fielded about $100 million in loan applications for the week beginning June 13, he said.
Coincidentally, Ryan's older brother, Cary, is in the same business. He heads up another privately held student loan company in San Diego called College Loan Corp., which is also seeing a surge in business in recent weeks, driven by the impending increase on interest rates charged for student loans.
Mark Brenner, College Loan Corp.'s president, said with the interest rates on student loans ratcheting up nearly 2 percent starting July 1, many student borrowers are eager to lock in a fixed rate that could save them a considerable amount of money during the life of the loan.
"Over the last three to four weeks, we've seen a dramatic increase in both call volume and in the number of applicants. The level is about 100 percent more than it was six weeks ago," he said.
College Loan Corp. holds about $7.1 billion in student loans in its portfolio. Since the company's inception in 1999, CLC has funded more than $11 billion in student loans.
Interest rates for federally insured student loans are set each year by the federal Department of Education, and will rise by 1.93 percent beginning July 1. Current student borrowers with a variable rate loan could obtain a fixed, 2.88 percent annual rate during the life of the loan, rather than paying 5.3 percent starting in July.
According to a spreadsheet assembled by College Loan Corp., a student borrower with $20,500 in outstanding principal could save at least $2,272 over 10 years, compared with maintaining the variable rate loan.
The savings are even better if a borrower consolidates the loan within six months of graduation, or agrees to have the loan payments withdrawn automatically from their accounts, said College Loan Corp. spokeswoman Tracy Neumann.
As College Loan Corp.'s loan portfolio has expanded, so has its employment. It now has 505 staffers, compared with 450 at the end of 2004, Neumann said.
"We have about 37 openings right now in a range of positions in operations to sales and marketing," Brenner said.
Goal Financial said its loan portfolio today is more than $5 billion, making it the ninth largest of all student lenders. The largest, by far, is SLM Corp., better known as Sallie Mae. The former government agency and now publicly traded firm holds more than $100 billion in student loans.
Privately held Goal doesn't reveal all its financials, but Katz said his company generated more than $100 million in revenues and has been profitable for the last three years.
Goal employs 230 workers, nearly all of them based at the firm's headquarters in Sorrento Mesa. While the company has been growing, it is operating more efficiently and won't increase its payroll by more than 10 percent this year, Ryan Katz said.
No Sibling Rivalry
While Ryan denies any sibling rivalry, he also isn't shy about giving an explanation as to why his company trails his brother's in terms of overall portfolio size.
"They (College Loan Corp.) started one year ahead of us and that's why they're larger than us," he said. "Both of our companies are in the consolidation loan market, but CLC is pursuing more traditional channels by working with colleges to get on their preferred lender lists," said Ryan, 31.
Cary Katz, 35, was on vacation and could not be reached for comment.
Instead of picking up borrowers referred from colleges' financial aid offices, Goal is more aggressive about attracting borrowers through direct contact, he said.
From 1995 to 1999, Ryan and Cary, along with their father, Marcus, worked at FFELP Marketing Group, a firm that marketed student loans. After a Massachusetts firm acquired the company, Ryan and Cary went their separate ways.
Ryan and his father joined together to form the Student Loan Consolidation Center, which was renamed Goal Financial last year. Goal was launched with about $800,000 in capital, and with partner Tim Case.
The genesis of the two local student loan firms can be traced back to a firm founded by Marcus Katz and his partner, Robert DeRose. The business made student loans through a direct consumer channel model, rather than making loans through arrangements with colleges.
"Marcus and I started the whole thing here in San Diego when we launched our company and started the direct marketing of loans to families and students in 1992," DeRose said in an earlier San Diego Business Journal interview.
Buying It Back
The company was sold to American Express, but when the credit card firm conducted a reorganization, DeRose bought it back in 2001, and renamed it Educational Lending Group.
The company grew its loan portfolio from about $44 million at the end of 2001 to $4 billion as of the end of 2004. In January, the CIT Group of Livingston, N.J., acquired the public company in a cash deal valued at $381 million.
DeRose, who is still the chief executive for Educational Lending, said he was prevented from talking publicly without clearance from the parent firm.
In an earlier story on the sale of Educational Lending, the company said it had 255 employees, including 120 at its Carmel Valley headquarters. DeRose said in January, the firm was increasing its employment at a Cleveland loan servicing center by 75. CIT holds more than $50 billion in managed assets.