S.F. Firm Sets Sights on S.D. Opportunities
Monday, June 13, 2005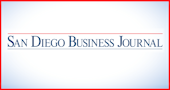 San Francisco-based venture capital firm Sofinnova Ventures has named Jeffrey Stein as its life science venture partner to identify investment opportunities in clinical-stage therapeutic areas in San Diego.
Stein will continue his role of advising UC San Diego in venture development and technology spin-outs, Sofinnova said in its announcement June 2.
For UCSD and other research universities in the nation, linking researchers' innovations with investors has become a respectable source of income.
In the fiscal year ended June 30, 2002, UCSD's technology transfer and intellectual property office generated $7.4 million in licensing fees from inventions, copyrights and royalties, according to the office's information analyst. Total income was $17 million.
Joel Martin, a partner with Forward Ventures, a San Diego-based venture capital group focusing on biotech investments, said he's not worried about Sofinnova getting first dibs into UCSD's rich innovation pipeline through Stein's insider connection.
Martin said he doesn't see Sofinnova getting "a special break."
Martin said he welcomes the arrival of a top-tiered venture capital firm in San Diego.
"It adds further weight to San Diego," he said.
Venture capital financiers from California's two rich biotech clusters, San Francisco and San Diego, cross paths all the time. "We know everyone well and see each other on planes going back and forth to the Bay Area , so it's not a huge move (by Sofinnova) we look at each other's deals anyway."
Martin said Stein is one of the few industry insiders he's not yet well acquainted with.
He foresees that will change soon.
Stein has long been a part of San Diego's biotech world.
A Ph.D. scientist, Stein has held several senior scientific and management positions in the biopharmaceutical industry for the last 12 years.
Previously, he was a director and chief scientific officer of Carlsbad-based biotech company Quorex Pharmaceuticals Inc., which was bought by New York-based pharmaceutical giant Pfizer in 2004.
Stein was also a principal scientist at San Diego-based Diversa Corp. and a principal investigator at the Agouron Institute.
Stein could not be reached for comment.
- - -
Invitrogen, Applied Biosystems Sign Co-Marketing Deal: Carlsbad-based life sciences firm Invitrogen Corp. and Norwalk, Conn.-based Applied Biosystems Group's Applera Corp. unit announced on June 6 that they will co-market products in the area of mass spectrometry targeting researchers working on proteins.

The companies will co-promote their collection of labeling technologies to researchers working on proteins.
Financial details were not disclosed.
- - -
Amylin's Pramlintide Fights Obesity: San Diego-based diabetes drug maker Amylin Pharmaceuticals Inc.'s spring season is blooming with good news.
After two drug approvals, Amylin announced this month that pramlintide, a synthetic analog of human amylin, a hormone that plays a role in regulating appetite and food intake, has shown to help obese people lose weight.
In a Phase II study of 204 obese people , 160 people without diabetes and 44 with non-insulin-treated type 2 diabetes , who took pramlintide three times a day before meals for 16 weeks, some participants lost up to 3.6 percent (3.5 kilograms) in weight compared with people taking sugar pills.
Some people taking pramlintide experienced mild nausea.
Amylin said that people in this study were able to tolerate higher doses of pramlintide than those previously studied in long-term diabetes trials, with about 90 percent progressing to 240 micrograms three times a day.
The company now plans another Phase II study, testing the same drug on some 400 obese, non-diabetic people, for 16 weeks.
Patients will receive three doses ranging up to 360 micrograms two and three times a day. First results are expected in the first half of 2006, Amylin said.
- - -
Anadys, Novartis Deal: San Diego-based Anadys Pharmaceuticals Inc. and Swiss drug maker Novartis AG recently signed a co-development and marketing deal that could be lucrative for the local biotech company.
Novartis agreed to pay Anadys $20 million upfront and up to $550 million in milestone payments depending on the successful development of Anadys' hepatitis drug ANA975.
ANA975 has shown promising results in early stage trials of 68 patients.

Novartis will pay Anadys $10 million if the U.S. Food and Drug Administration gives the firms the green light to start first human trials in the United States.

Anadys said on June 2 that it plans to file for FDA permission in the middle of this year.
If the drug wins approval down the road, Anadys has an option to retain 35 percent of the profits from selling the drug in the United States if it pays 35 percent of the commercialization costs in this country.
Novartis' license also includes rights to potentially co-develop other Anadys compounds targeting infectious diseases.
That includes an option to license rights to ANA380, a hepatitis B compound that Anadys currently co-develops with Seoul, South Korean company LG Life Sciences Ltd.
Contact Marion Webb at marionw@sdbj.com or call her at (858) 277-6359, Ext. 3108.