Impact Locally of Titan's L-3 Deal May Be Minimal
Monday, June 13, 2005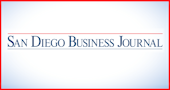 While the acquisition of Titan Corp. by New York-based L-3 Communications will likely result in some job loss and facility closures, the fallout locally isn't expected to be high.
There aren't a great deal of overlapping units, said Frank Lanza, the chairman and chief executive officer of L-3 Communications Holdings Inc.
At a news conference announcing the deal June 3, Lanza said some functions, particularly corporate, will be transferred to New York, but for the most part, the companies aren't operating in the same market space.
"They (Titan) are in a segment of the business that is part of the intelligence part of the world in command and control and communication, but not where we're niched into, so we don't compete. So it is very, very complementary as an asset to L-3 and together we are able to broaden our market aperture rather dramatically," Lanza said.
As was rumored for more than a month, L-3 agreed to purchase Titan for $23.10 per share, which translates to about $2.65 billion, including assuming Titan's outstanding debt of $508 million.
L-3 coveted Titan because the latter was engaged in a part of the defense contracting business that it was familiar with, but wasn't doing, said Mark Jordan, an analyst with A.G. Edwards & Sons in St. Louis.
"L-3 stated that where it sees attractive opportunities for growth is in the services arena, some of which is very difficult to build from scratch," Jordan said.
Founded in 1981, Titan is a diversified provider of communications technology products and services primarily to federal government departments and agencies. It also is a supplier of translators and interpreters to the military in Iraq and Afghanistan.
L-3 is more a maker of products and has been aggressively expanding its horizons through acquiring smaller defense contractors, Jordan said.

"L-3 has been very aggressive in the area of developing subsystems and components for the defense industry," he said.
For 2004, L-3 reported net income of $382 million on revenues of $6.9 billion. Last year, Titan reported a net loss of $38.6 million on about $2 billion in revenues. With the combination of Titan, L-3 is expected to generate more than $11 billion in sales in 2006, according to L-3.
How the combination plays out in terms of reduced staffing is a mystery at this point, but most observers say that because there is little overlap, cutting redundant positions would be minimal.
"Titan has seven business units, and the implication was that they plan to leave those units intact," Jordan said.
Actually, Titan has eight business units, all of which operate fairly autonomously, and are spread across the nation, said Titan Vice President Wil Williams. The level of management within the units and overseeing the company are fairly thin, he said.
Of Titan's total employment of 12,000, about 1,000 work in San Diego County at 15 different offices. The number doesn't include "several hundred" part-time consultants, Williams said.
Asked the number of employees engaged in corporate functions such as human resources, finance and administration, Williams said, "several hundred."
Titan's headquarters on Science Park Road in the University City area consists of two buildings, which also house the information products sector unit, he said.
Another factor that will likely cause L-3 to retain most Titan employees is the fact that about three-fourths of the company's staff possess U.S. government security clearances, including about 5,000 who have top-secret security clearances.
Much of Titan's core business involves the kind of defense and intelligence activities that L-3 wasn't involved in, but was viewed as attractive to help it grow, Jordan said.
"If you're not in this business, and you don't have the people in it, then you don't know what business opportunities are there," he said.
The cash price paid for Titan shares exceeded the second offer made by Lockheed Martin Corp. in 2004, when it reduced its original price by $2 to $20 per share. That reduction was done following an extensive investigation into Titan by both the Department of Justice and the Securities and Exchange Commission into bribery allegations involving influencing the re-election of the president of Benin in West Africa.
In March, Titan pleaded guilty to three felonies as part of a settlement with both agencies, and paid $28.5 million in fines, the largest ever levied for violations of the Foreign Corrupt Practices Act.
Despite Lockheed extending a deadline to complete the acquisition last year, government regulators and Titan couldn't arrange the settlement in a timely period, and Lockheed pulled out.
The sale is contingent upon Titan receiving court approval of a settlement arranged on several class action lawsuits that were filed following the collapse of the Lockheed deal. According to a Titan filing on June 2, the legal settlement was for $67.4 million.
The deal also requires majority approval of Titan shareholders, and government regulators, including the Department of Justice.
Asked whether another revelation of criminal wrongdoing might be uncovered during a due diligence review by regulators, Jordan said that would be surprising.
"The SEC and the Department of Justice don't sign off on a settlement unless they feel that everything was done that has to be done. I'd be very surprised that anything substantive would be found after more than a year of scrutiny that the company went through," he said.