Amylin Looks Forward to Diabetes Conference
Monday, June 13, 2005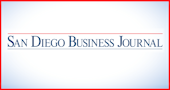 For most drug makers, getting their sales representatives in front of busy doctors is no easy task.
Persuading doctors to actually prescribe new drugs they're not familiar with is even more challenging.
This week, San Diego-based diabetes drug maker Amylin Pharmaceuticals Inc., which just launched two newly approved diabetes drugs, Symlin and Byetta, had thousands of diabetes experts in their own back yard.
Some 12,000 diabetes health professionals, including doctors, nurses, researchers and educators were expected to come to San Diego to attend the American Diabetes Association's largest annual meeting.
Amylin planned to take advantage of the year's largest gathering on diabetes by presenting new findings and promoting its drugs: Byetta was approved April 28 for use in combination with two oral drugs for Type 2 diabetics who are not yet dependent on insulin; Symlin was approved in March for patients who are dependent on insulin.

Eric Shearin, an Amylin spokesman, said the company has been gearing up for the five-day event at the San Diego Convention Center through June 14.

"It's our biggest meeting of the year," Shearin said. "The ADA provides us a forum to educate (doctors) on how the drugs work and who the appropriate patients are through presenting data and through our commercial presence in the exhibit hall."
That included a presentation of an 18-month study that followed 265 patients who failed to achieve blood glucose control with existing oral drugs.
Study Results
The study found that patients on Byetta combined with oral drugs, metformin or sulfonylurea, or both, controlled their blood sugar levels better while losing weight.
Patients who injected 10 micrograms of Byetta twice daily reduced their A1C levels (as measured by hemoglobin) by 1.2 percent on average, down from 8.3 percent, and lost 10.1 pounds on average, said Dr. David Kendall, a medical director at the International Diabetes Center in Minneapolis in a June 10 press release. Kendall was scheduled to present the findings of the study that day.
"Findings from these long-term data demonstrate that Byetta has unique benefits for patients with type 2 diabetes who had previously struggled to manage the disease effectively," Kendall said.
A first in a new class of drugs, Byetta has several advantages over existing drugs:
Compared with traditional insulin shots that can cause blood sugars to drop dangerously low, Byetta stimulates insulin production and lowers blood sugars only when the body needs it. Existing drugs often cause patients to gain weight, but Byetta helps patients lose weight.
Another 26-week study of more than 500 patients taking Byetta plus oral drugs showed that patients had similar blood sugar control compared to patients using a long-acting insulin and oral drugs, said Robert Heine, director of the diabetes center at the VU University Medical Center in the Netherlands during his scheduled presentation on June 10.
"This is the first comparator study in which a non-insulin treatment for diabetes has demonstrated similar blood glucose control to insulin for patients who are failing to achieve treatment targets on oral medications," Heine said.

The study also found that patients on Byetta lost five pounds on average, while patients on insulin gained four pounds on average.

"When considering the weight loss and achieved glucose control, the results of this study demonstrate that Byetta can be an effective tool for the management of type 2 diabetes patients who cannot control their blood sugar using oral medications," he said.
However, 57 percent of patients on Byetta had side effects of nausea and 6 percent of patients dropped out due to nausea, he said.
Ginger Graham, Amylin's president and chief executive, said she hopes that a long-acting version of Byetta, which is injected only once a week, can reduce the side effects of nausea.
A Phase II trial of 45 patients is expected to yield first results in late 2005 or early 2006.
If all goes well, Amylin could start a Phase III trial in mid-2006 and be on the market with the new Byetta in 2008, Graham said.

"That's being very optimistic," she said.
Graham agreed with analysts who said that patients would prefer a long-acting version of Byetta, given its once a week injection.
Analysts at Sanford C. Bernstein, a New York-based investment research firm, projected 2009 sales of $500 million for Byetta, Forbes magazine reported June 7.
However, the experts also said that twice-a-day injection could limit sales, Forbes said.
If the long-acting version proves effective, Byetta's annual sales could jump to $1.5 billion. Pills targeting the same biological path still being developed by the bigger drug companies Merck and Novartis could also cut into Byetta sales, depending on how effective these pills are compared with injections, the analysts said.
Analysts at Morgan Stanley in New York, meanwhile, wrote in a late April report that Byetta should be able to capture at least 15 percent of the yearly $6 billion market for injectable diabetes drugs, which brings it into the $1 billion range.
Too Early To Predict
Graham declined to give a sales forecast: "It's too early."
Symlin hit the market on April 26.
Analysts estimated its market size to be significantly smaller than for Byetta , $300 million.
Byetta, which was first shipped to pharmacies May 26, is already drawing interest from doctors.
"The feedback from doctors is that they are anxious to meet with people (in sales)," Graham said.
That's the word from Amylin's newly trained 325-member sales force. Graham noted that interest doesn't equal written prescriptions.
"It's not a matter of one or two calls," she said. Because Byetta is a new class of drug, there's a lot of education involved and doctors are likely to treat a limited number of patients first to see how they respond to it, she said.
The other major hurdle is getting reimbursement from health insurers, a complicated and long-term process that can take six to 12 months, she said.
Some insurers have already agreed to cover the costs of the new drugs, Graham said, but declined to name them.
"In the short term, patients who want either Symlin or Byetta will have to pay higher co-pays," Graham said.
Diabetes isn't Amylin's only pursuit.
This month, Symlin, also known as pramlintide, a synthesized hormone that plays a role in regulating appetite and food intake, has shown promise in clinical trials to help obese people lose weight.
Based on the findings, Amylin now plans to study the same drug in 400 obese non-diabetics, with results expected for the first half of 2006.
Though obesity is a huge problem in the United States , with 60 million Americans being overweight or obese , the market potential is significantly smaller than for diabetes drugs, Graham said.
"One could argue that obesity is a significant target, but today, there isn't adequate reimbursement out there and there aren't highly effective therapeutics," Graham said.
Several companies are working on treatments for obesity, a condition that increases the risk for many diseases, including Type 2 diabetes, high blood pressure, heart disease, cancer and stroke.
Graham said she's following Sanofi-Aventis' drug Acomplia, which is under review by the Food and Drug Administration, and if approved, would become the first new prescription obesity drug in six years, the Los Angeles Times reported June 1.
Acomplia, known generically as rimonabant, works by blocking a signal in the brain that helps control hunger. Symlin, a man-made hormone that occurs naturally in the body, works by signaling the brain to stop eating.
"If it is approved, it could change reimbursement," Graham said.
That would be good news for Amylin's obesity program.
Like diabetes, the obesity market has ample room for new drugs, given that one drug doesn't benefit all individuals, she said.
"If obesity was a simple problem, there would be one solution, but the reality is that there are many hormonal systems involved," she said.
The same is true for diabetes.
"In diabetes there have been many new medications in the last 12 years, yet there's the continued need by diabetics for better glucose control," Graham said.
Both Symlin and Byetta have shown they can help control food intake, she said.
"Replacing a naturally occurring hormone and then adding it back to the body (doesn't pose the same) type of risk as taking a small molecule (an oral drug) that hasn't been introduced to humans," she explained.
As recently as the 1980s, the only medications to help people lose weight were stimulants, which boost metabolism and suppress appetite. But stimulants typically work for only a short time and have been linked to side effects.
"It exploded with the fen-phen disaster (in 1997)," Graham said about the drug combination that was found to cause heart valve abnormalities.
The FDA's guidelines for obesity drugs are rigorous, requiring data from thousands of patients and two-year-long Phase III trials, which are costly and lengthy, Graham said.
An FDA advisory committee proposed shortening the timeline for testing obesity drugs, given the great need, she said.
The discussions continue. The uncertain environment, however, makes it tough for drug makers to move forward, she said.
Graham said Amylin's focus is on Symlin and Byetta.
"There's a lot of work to be done," she said.