Week in Review
Monday, June 6, 2005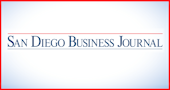 Quote of the Week
'We work with Republicans and Democrats, but there are personal philosophies that are dangerous, and when that personal philosophy has an impact on the business community, we look at reacting.'
, Mitch Mitchell, vice president of public policy and communications at the San Diego Regional Chamber of Commerce, on why his organization plans to endorse a candidate for mayor in the July 26 election. Please see story labeled "Politics" in the "Up Front" section.
Friday, May 27
Fitch Lowers Ratings: San Diego just missed getting a junk bond rating with news that Fitch Ratings downgraded the city on several fronts because of the city's continued delay in issuing audits for 2003 and 2004.
Other factors that were weighed by Fitch in the rating: Mayor Dick Murphy's planned resignation July 15, the special election to replace him on July 26, and several ongoing investigations into possible criminal activity related to the city pension system, which carries a $1.4 billion debt, as well as concerns over irregular disclosure, and conflicts of interest as "obstacles in drafting and adopting a sound budget for fiscal 2006."
Also taken into consideration in the downgrades was talk of possible bankruptcy by City Attorney Michael Aguirre. However, Fitch acknowledged that the bankruptcy option was "strongly opposed" by the mayor, City Council and city manager.
But in a prepared statement issued the day of the Fitch announcement, Aguirre said he doesn't believe bankruptcy is the solution because, "it's too broad an action to take." Instead, he said he supports placing the pension system in a receivership, because that is where the fiscal problems are isolated and where they should be addressed.
The downgrades include $22 million in outstanding general obligation bonds from A to BBB-plus; and $250 million in leased-back debt from A-minus to BBB-minus.
All ratings remain on "rating watch negative" by Fitch.
"This is well below what they were rated before," said Amy S. Doppelt, an analyst in Fitch's San Francisco office. "It's well below what the city's economic base would support. We are concerned about the lack of political will and fiscal discipline in the city."
, Pat Broderick
- - -
Slump At The Pump: Gasoline prices fell for the sixth straight week, the Automobile Club of Southern California said.
The average price for regular self-serve unleaded gasoline in the San Diego area dipped 5 cents to $2.445 from $2.495 the prior week. The price is down 15 cents from the previous month and 10 cents year over year.
San Diego's record gas price was $2.626, set April 12.
The Auto Club's weekend gas watch reports the average price of gasoline as of 12:01 a.m. Fridays.
, Brad Graves
- - -
Base Closure Push Praised: On the other side of the continent, President Bush spoke of the need for a new round of closures in remarks at the commencement ceremony at the U.S. Naval Academy. "Supporting these facilities wastes billions of taxpayer dollars, money that can be better spent on giving you the tools to fight terrorists and confront 21st-century threats," Bush told the graduating midshipmen.
San Diego loses little under the Pentagon's wide-ranging Base Realignment and Closure, or BRAC, plan. Several local bases would gain jobs, and the biggest cut would be 1,630 administrative, faculty and student positions at a school housed at the Naval Medical Center in Balboa Park. But the BRAC process is not over. An independent committee has the power to add or subtract bases from the Pentagon plan, and must release its modifications by Sept. 8. The president and Congress must pass judgment on the modified plan.
, Brad Graves
Tuesday, May 31
Lawsuit Challenges County Fees: San Diego's commercial and residential building trade associations filed suit against the county of San Diego, citing unreasonable overcharging for roads and calling the new transportation impact fee a fatal blow to retail and industrial development here.
The plaintiffs in the lawsuit are the Building Industry Association of San Diego County, and the National Association of Industrial and Office Properties, San Diego chapter. According to a press release from the BIA, "the goal of the lawsuit is to change the (fee) to one that is fair, reasonable and accurately reflects the impacts from new development."
The legal action came more than a month after the San Diego County Board of Supervisors adopted the fees by a 4-1 vote on April 13.
In some places, the adopted retail fee will be as high as $62 per square foot, which translates into a $2.48 million tax on a typical 40,000-square-foot grocery store.
, Heather Bergman
Wednesday, June 1
Walsh Appointed: Timothy R. Walsh, 41, of San Diego, was appointed to a judgeship in San Diego Superior Court by Gov. Arnold Schwarzenegger.
Walsh served as a deputy district attorney for the San Diego County district attorney's office since 1992. There, he has served in a variety of capacities, most recently as trial team leader in the South Bay office.
, Pat Broderick
Thursday, June 2
New Carrier Lands: Calgary, Alberta-based WestJet Airlines launched new nonstop round-trip service from Calgary International Airport to Lindbergh Field. The seasonal service will run on Tuesdays, Thursdays and Saturdays through Oct. 11.
, Connie Lewis