New York Firm to Buy Titan
Friday, June 3, 2005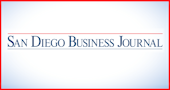 As rumored for about two weeks, Titan Corp., a San Diego-based defense contractor specializing in communications systems, agreed to be acquired by L-3 Communications Inc. in a deal valued at $2.65 billion, including assuming Titan's debt.
The deal was announced June 3.
L-3 Communications, a New York-based corporation that had nearly $7 billion in revenues last year, is a maker of satellite and marine communications equipment used by military agencies and the commercial sector.
Frank Lanza, L-3 chairman and chief executive officer, said while both his firm and Titan operate in the same industry, the businesses should complement each other. L-3 was especially attracted to Titan because of the high number of Titan employees, about 9,000, who have government security clearances.
"This acquisition is very strategic for L-3 because Titan is a major provider of intelligence services to the Department of Defense and key U.S. intelligence agencies," Lanza said.
Gene Ray, Titan's chairman and CEO, said the transaction was in the best interests of shareholders, customers and employees.
"This merger with L-3 will create a company with greater resources and the operational flexibility to offer our customers an even broader spectrum of innovative systems and quality solutions," Ray said.
Talks between Titan, which had $2.4 billion in revenues last year, and L-3 had been going on for weeks and reported widely, but until June 3 both companies declined any comment on a possible merger.
Titan, with about 12,000 employees worldwide and 1,000 in San Diego, agreed to sell itself to Lockheed Martin Corp. in 2003, but after allegations of bribery of foreign officials surfaced, a lengthy federal probe ensued, eventually scuttling the deal in March 2004.
In March 2005, Titan agreed to $28.5 million in fines after pleading guilty to several felonies involving violations of federal anti-bribery laws. The fines were the largest penalty ever assessed involving violations of the Foreign Corrupt Practices Act.
Titan's agreement with Lockheed was originally for $22 per share or $2.4 billion, including assuming about $550 million in Titan debt. But once bribery allegations surfaced, Lockheed reduced its offer to $20 per share, or $2.2 billion, including debt. Lockheed dropped out altogether last year when Titan and government agencies did not arrange a settlement within a prescribed deadline.
The L-3 deal calls for Titan shareholders to receive $23.10 in cash for each share they own for a total of $1.97 billion. In addition, L-3 will assume $680 million in Titan debt.
The transaction, already approved by both companies' boards of directors, requires approval of Titan shareholders and regulators. Both companies said the deal should be completed during the second half of this year, and Titan said it could happen by the end of August, but also said, "no assurances can be made."
Mike Allen