Chamber Likely to Endorse for Mayor
Thursday, June 2, 2005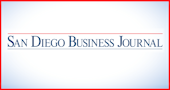 The San Diego Regional Chamber of Commerce, concerned that the business community is being seriously jeopardized by the policies at City Hall, is expected to do something that it hasn't done in many years endorse a candidate for mayor.
Mitch Mitchell, the chamber's vice president of public policy and communications, said the board will be making that decision the week of June 20, after it has finished interviewing six of the 11 mayoral contenders.
Those candidates are San Diego City Councilwoman Donna Frye, who ran as a write-in candidate during last year's mayoral race, drew more votes, but lost to Mayor Dick Murphy, when more than 5,000 of Frye's votes were invalidated due to unmarked bubbles by her name; Jerry Sanders, former San Diego police chief, businessman and chairman of the American Red Cross San Diego/Imperial Counties; Steve Francis, founder and executive chairman of publicly traded AMN Healthcare in Carmel Valley; Richard Rider, a well-known Libertarian activist and chairman of the San Diego Tax Fighters; Pat Shea, a La Jolla attorney who represented more than 200 agencies and school and special districts during the Orange County bankruptcy proceedings of 1995; and "New York Myke" Shelby, owner of San Diego Harley-Davidson.
A Chamber of Commerce endorsement is so rare, said Mitchell, that he couldn't recall the last one. Tom Shepard, a prominent San Diego political consultant, said, "I go back to the early '70s, and I don't recall their ever getting involved in a city race."
Mitchell said chamber policy permits the board to make an endorsement if "the election has a critical impact on the economy."
Normally, he said, the chamber avoids getting caught up in politics, either at City Hall or in Sacramento.
"We work with Republicans and Democrats, but there are personal philosophies that are dangerous, and when that personal philosophy has an impact on the business community, we look at reacting," said Mitchell.
Interview Process
The six candidates selected by the board to be interviewed had either high name recognition or the financial means to get their names out to the public, said Mitchell.
The others running, trimmed down from an initial roster of 29, are Jim Bell, an ecological designer, author and environmentalist; Thomas Knapp, a restaurant supervisor; Ed Kolker, a retired judge with his own mediation business; Jeremy Ledford, a salesman; and Shawn A. McMillan, a San Diego attorney who once owned a computer business.
A special election is set for July 26 to replace Murphy, who is resigning his office on July 15, following more than a year of political turmoil centered around the city's ailing pension system.
While the pension problems have remained front and center for more than a year now, Mitchell said that the board would consider endorsing the most well-rounded candidate one who can address the other issues caused by what he called the pension's "pyramid effect."
"If the city can't bond, it can't improve the infrastructure, and if it can't improve the infrastructure, it can't improve the housing stock, and then we continue to struggle with business recruitment and retention," he said.
"The budget is a mess, and not a mess just this year, but every year, in the minds of the business community," Mitchell added. "There is no rhyme or reason how the budget is put together. It's a guessing game. Budget stability needs to be created. Now we don't have that stability."
For Mitchell, these dark times in San Diego are "just the next chapter in what has been a very interesting book."
"In the end, everybody wants a positive ending. It's more important now than ever for the board, and the region, to pay attention to what the candidates' positions are, and their plans for moving forward," he added.