Shea Announces Candidacy
Wednesday, June 1, 2005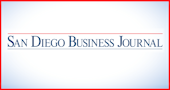 Pat Shea, a La Jolla attorney known for his role in the Orange County bankruptcy a decade ago, announced his candidacy for mayor of San Diego on June 1.
Originally in a field of 29 hopefuls to replace Mayor Dick Murphy, who will leave office July 15, Shea now is among 11 candidates. They include San Diego City Councilwoman Donna Frye; Jerry Sanders, former San Diego police chief, businessman and chairman of the American Red Cross San Diego/Imperial Counties; and Steve Francis, founder and executive chairman of publicly traded AMN Healthcare in Carmel Valley.
Also in the race are Jim Bell, ecological designer; Thomas Knapp, business supervisor; Ed Kolker, self-employed mediator; Jeremy Ledford, salesman; Shawn A. McMillan, attorney; Richard Rider, a well-known Libertarian and tax activist; and "New York Myke" Shelby, a colorful Harley-Davidson dealer.
Shea pledges to reorganize city finances within a year and end the legal wrangling that, he said, "has brought city government to a standstill," all without a tax increase or sale of city-owned land.
He represented more than 200 agencies, school districts and special districts during the Orange County bankruptcy proceedings that started in 1994 after it was learned that the county's investment pool had suffered a $1.6 billion loss.
For San Diego's troubles, Shea favors a Chapter 9 bankruptcy proceeding, a form of reorganization that gives the city breathing room and permits it to renegotiate contracts.
"I am the only candidate in this race that has successfully restructured a government agency," he said. "Today, Orange County, its cities and school districts are fiscally sound, delivering quality public services. San Diego can have the same bright future."
Without reorganization, said Shea, "tax increases, slashed services, and the sale of city-owned land like Torrey Pines Golf Course will be inevitable."
"The city has already mortgaged Qualcomm Stadium. Torrey Pines is just the next attractive target in their sights," he added.
Shea is married to Diann Shipione, a former member of the San Diego City Employees' Retirement System board who blew the whistle on the pension scandal, which involved increased benefits and an under-funded pension that now carries a $1.4 billion deficit.
A native of San Diego, he chaired the Citizens Task Force on the Ballpark, and served on the San Diego Convention Center board of directors.
A graduate of Stanford University, Shea holds a law degree and master of business administration degree from Harvard University.
Pat Broderick