Also-Rans Could Offer Oversight, Says City Attorney
Wednesday, July 27, 2005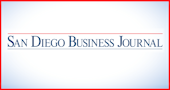 The day after the July 26 special election to replace Mayor Dick Murphy, City Attorney Michael Aguirre called for the City Council to consider three former mayoral candidates for appointment to the beleaguered San Diego City Employees' Retirement System.
The three are: Steve Francis, the executive chairman of AMN Healthcare; taxpayer advocate Richard Rider; and Pat Shea, a San Diego attorney. Aguirre also recommended former board member Diann Shipione, known as a whistle-blower who had publicly warned the city of the dire pension problems. She is Shea's wife.
In an interview the day after the election, Francis said that he was "surprised" by Aguirre's recommendation, but "flattered."
"It's hard to respond to that right now," he said. "I just got off of this race. I think Mike is doing a good job, trying to clean up the city. I think he's doing this because he cares about San Diego."
Aguirre also called for the resignations of three of the five members of the Defined Contribution Plans Trustee Board, which oversees the city's supplement pension savings plan and the 401(k) plan. They are: Ron Saathoff, the president of Fire Fighters Local 145, who has been charged with felony conflict of interest by the district attorney; Bill Lopez, deputy director of risk management, who has been sued by Aguirre for alleged breach of fiduciary duty; and Lawrence Grissom, SDCERS administrator, who has been sued by Aguirre for alleged violations of the political reform act.
"Mr. Grissom has no intention of resigning his position on the city's Defined Contribution Board," said Rebecca Wilson, a SDCERS spokeswoman.
Pat Broderick