Titan's 2nd Try at Sale Adds Up For L-3
Monday, July 25, 2005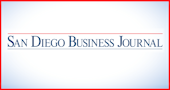 About 13 months after Titan Corp.'s planned sale to Lockheed Martin Corp. collapsed, the San Diego defense contractor is taking another trip down the aisle.
This time, however, the company doesn't expect to be left at the altar.
Titan stockholders are scheduled to cast their votes July 28 on the sale of the firm to L-3 Communications Holdings, Inc. in a deal that pays $23.10 for each share of Titan for an aggregate price of about $2.6 billion, including the assumption of about $508 million in Titan debt.
In June 2004, Titan's planned sale to Bethesda, Md.-based Lockheed Martin fell apart after Titan was unable to reach a settlement with two federal agencies investigating bribery allegations.
The plea agreement with the Department of Justice and the Securities and Exchange Commission announced in March removed a major obstacle to any future sale.
The stockholders meeting to approve the L-3 deal, which had been in the works for months and was announced June 3, won't last long, say industry analysts.
"My assumption is the meeting should be a nonevent," said Jon Kutler, the chairman of Jefferies Quarterdeck, an investment banking unit of Jefferies Group Inc.
According to the proxy prepared in advance of the meeting, Titan's second attempt at being acquired got started in January when Titan lead director Peter Cohen had a second lunch with Frank Lanza, the chairman and chief executive of L-3. Lanza also had met Cohen in New York in October and both times told him that "if Titan were ever to consider a strategic transaction, L-3 would be interested," the proxy stated.
Titan was in no position to broker any deals then, as it was still negotiating its settlement with the government concerning violations of the Foreign Corrupt Practices Act.
In March, after the company entered into a plea bargain with the Justice Department and the SEC, which included an agreement to pay total penalties of $28.5 million, Titan executives began talking with at least three potential acquiring companies in addition to L-3, according to the Titan proxy.
None of the interested bidders is identified, except by letters and description such as "a large government information technology company." Industry sources say these likely include some of the largest government IT firms in the nation.
Titan's negotiations with Lanza gained momentum in April. At one point in a letter to Titan Chairman and Chief Executive Officer Gene Ray, Lanza set a preliminary value for Titan at $23.50 per share. However, Lanza noted the price would have to be discounted because of numerous outstanding lawsuits filed against the company.
Lanza said if Titan could resolve the litigation for one estimated amount, he'd be willing to pay $22.80 per share.
This level of interest set off a round of negotiations involving lawyers for the two defense companies, plus the lead law firm representing the derivative shareholder lawsuits, New York-based Milberg Weiss Bershad & Shulman LLP.
By late May, after his firm conducted an extensive due diligence of Titan, Lanza told Titan executives and directors he wouldn't pay more than $22.76 per share for the company.
In a series of calls May 27 and 29, Cohen and Lanza talked about the final price, but Lanza didn't budge.
Lanza's mind apparently changed following a series of meetings among lawyers representing the two companies, and Milberg Weiss attorneys. On June 1, the companies and the shareholders' law firm agreed Titan's fair value was $23.10 per share, the proxy stated.
Mark Jordan, an analyst with AG Edwards & Co. in St. Louis, said given the prices paid for other defense contractors in recent years, both the seller and the buyer should be happy about the deal.
L-3's price equals about 20 times Titan's 2005 forecasted earnings, a nice ratio, said Tim Quillin, an analyst with Stephens Inc. in Little Rock, Ark.
"In my opinion, the price that L-3 agreed to pay for Titan is fair to both parties," he said.
The L-3 price is also about a 15 percent premium to the $20 per share Lockheed Martin was offering in 2004, after it reduced its original $22 offer due to Titan's troubles with the government.
Jordan doubted whether Lockheed ever resumed negotiations after all it went through and surmised there were likely some hurt feelings over the process. The bribery allegations emerged after Lockheed Martin began its due diligence research following signing a definitive agreement to acquire Titan in September 2003 for what was then an aggregate $2.4 billion, including assuming Titan debt of $550 million.
Opportunity For Growth
The coupling of Titan with L-3 was viewed positively by most industry observers because of Titan's core competency in the burgeoning federal contracting area of C4ISR. The term refers to command, control, communications, intelligence, surveillance and reconnaissance.
While L-3 had been doing some similar work, the firm was still mainly involved in making hardware and computer network subsystems. Lanza recognized the greater growth potential that came with a communications and technology servicing company such as Titan, Jordan said.
"There's a higher growth opportunity on the services side of the industry than there is on the hardware side," he said.
L-3 also desired some 5,000 Titan employees who possess high-level security clearances, analysts said.
Combined with Titan's anticipated $2.4 billion in sales this year, L-3's projected annual revenues should rise to about $11 billion.
While Titan shareholder approval appears to be a slam-dunk, a big stumbling block to completing the transaction entails court approval on a series of legal settlements arranged just before the definitive agreement was signed, Jordan said.
The legal settlements involve two sets of suits, federal securities actions that total $61.5 million in payments, and another set of shareholder actions filed in California and Delaware state courts for $5.9 million, according to the proxy.
Titan got a considerable amount of advice in helping it arrange the sale. The proxy detailed the opinions rendered on the company's value by two consulting firms, Carmel Valley-based Relational Advisors LLC, and Lehman Bros., Inc. of New York. Each firm will collect $8.7 million for its work upon the transaction's completion. Relational was paid $500,000 for its opinion and has been on retainer to Titan for $250,000 annually. Lehman received $1 million.
Kathy Scott, managing director for Relational Advisors, said the Titan fee wasn't the firm's largest, but it was significant. Relational was one of two advisory firms retained by Enron Corp. after the company entered into bankruptcy in 2001.
Although both L-3 and Titan executives have said they don't anticipate much job loss resulting from the consolidation, several industry observers said cuts are expected and may continue into the future.
Bruce Ahern, a former local technology analyst now living in Atlanta, estimated that Titan will sustain 15 percent to 18 percent in personnel reductions over two to three years once the transaction is completed , estimated to happen in the third quarter.
Titan, founded in 1981, has a worldwide employment of 12,000, including about 1,000 workers at 15 facilities in San Diego County.
Based in New York, L-3 reported net income of $382 million on revenues of $6.9 billion in 2004. It has about 44,200 employees.