S.D. Hotelier Finds Investing Locally Is to His Liking
Monday, July 25, 2005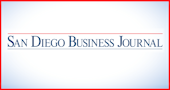 San Diego-based American Property Management Corp., which owns and manages hotels across the county, is increasing its stake in its hometown with the acquisition of the Holiday Inn Mission Bay SeaWorld and plans to build a posh hotel in Downtown.
Michael Gallegos, the firm's president and chief executive officer, declined to say what it paid to acquire the 316-room Point Loma hotel from Orange County-based Tarsadia Hotels earlier this month. But according to industry sources, the hotel fetched about $30 million.
Gallegos also declined to cite the location of the hotel that American Property Management plans to build Downtown. He did say that it would be a $120 million, five-star property with as many as 300 rooms.
Reint Reinders, president and chief executive officer of the San Diego Convention & Visitors Bureau said that Downtown could benefit from the construction of a five-star hotel. But hotel developers usually select suburban areas to site luxury hotels since they often have space for golf courses.
"If a five-star hotel was to be built Downtown, it would most likely have to be on the waterfront," Reinders said.
Neither the Centre City Development Corp., a city-run nonprofit agency that coordinates Downtown redevelopment, nor the San Diego Unified Port District were aware of plans to build such a hotel.
Gallegos said his company has a partner in the Holiday Inn Mission Bay SeaWorld deal, but he declined to say who it is.
Built in 1982, Gallegos said the hotel on Sports Arena Boulevard is "in relatively good condition, but it's due for a multimillion-dollar renovation."
With rooms renting at an average annual rate of $100 nightly, the hotel's occupancy has averaged 78 percent annually, Gallegos said.
He estimated that the cost to purchase new beds, bedding, draperies, wall coverings, carpeting and to replace some plant equipment, such energy-saving laundry machines, would be a little less than $3 million.
In early June, American Property Management sold the 59-room, boutique Prava Hotel in Downtown to Redmond, Wash.-based Fairfield Resorts Inc. for $14 million. The hotel was subsequently closed for conversion into a vacation timeshare.
Gallegos said the 22 staff members who were employed at the Prava have taken jobs at the Holiday Inn SeaWorld, which has a staff of 60 former Tarsadia employees. About 25 of the Tarsadia staff took jobs at that company's other hotels.
Tarsadia owns the Comfort Inn & Suites Zoo/SeaWorld, the Comfort Suites Mission Valley, the DoubleTree Club Hotel and the Comfort Inn & Suites, both on Hotel Circle.
Gallegos said that American Property Management, which owns the 333-room Radisson Harbor View in Little Italy, is the nation's 16th largest hotel owner, with a portfolio valued at more than $1 billion. He said it is also the seventh largest independent hotel management firm in the country.
Portfolio To Increase With More Hotels
Gallegos said that the Holiday Inn Mission Bay SeaWorld marked the 13th hotel acquisition the company has made in the last 12 months.
"In the next few months we should close on well over $100 million worth of other hotels," Gallegos said.
According to Costa Mesa-based Atlas Hotel Group, which tracks hotel sales and starts throughout the state, sales of major hotels in San Diego County thus far this year include the 350-room Hilton Mission Valley, the 282-room Hilton San Diego Gaslamp Quarter, the 224-room Courtyard by Marriott on Broadway in Downtown, and the 118-room Staybridge Suites on Innovation Drive.
Sellers Motivated
At least four others are on the block: the 422-room Hyatt Regency Islandia on Mission Bay, the 261-room W San Diego in Downtown's Marina District, the 206-room Shelter Pointe Hotel in Point Loma and the 284-room Marriott Del Mar on
El Camino Real.
According to hotel analysts, low, long-term interest rates and an increased availability of capital have spurred hotel acquisitions in the nation's top tourism destinations, particularly in Southern California.