Holes Plugged as Travel Bureaus Ponder Funding
Monday, July 4, 2005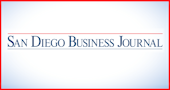 When it comes to funding the two largest agencies that tell the county's story to the visiting public, San Diego City Hall apparently thinks the destination sells itself.
The San Diego Convention & Visitors Bureau lost an even $1 million, or more than 10 percent of its city appropriation , the third year in a row that it has seen the ax , while the San Diego North Convention & Visitors Bureau also lost 10 percent.
But at least one bureau head, Cami Mattson, the president and chief executive officer of San Diego North, says she thinks the "holes can be plugged up" , essentially making a projected $1.07 million for fiscal 2006 flat with last year's budget of $1.08 million. The bureaus' fiscal years ended June 30.
"Hopefully, with innovative appropriations, we'll be able to create a flat budget," Mattson said.
One possibility involves engaging some North County companies, such as homebuilders, fitness spas, agricultural producers and "non-hospitality partners that match our brand" in a co-op marketing effort that could leverage the bureau's funds, she said. Since the plan is still in the idea stage, Mattson declined to name any particular firms that might be approached.
"We haven't talked to them yet, so I don't want to mention any names," she said.
Mattson said she and her staff recently met with a consultant to help them formulate a strategy on outside-the-box marketing approaches.
"The point is to leverage our marketing dollars and find new arteries and communication channels to get to the customer," she said. "How you approach it is by assessing your assets and needs and look at corporations headquartered in town and their needs.
"The key is whether they have an interest in community awareness and how they reach their customers to determine whether they'd match our goals."
For fiscal 2006, the city of San Diego appropriated $380,000 to the San Diego North CVB, while funding from the county was cut 22.5 percent to $155,000.
Carlsbad is expected to chip in $100,000 and Escondido $90,000 , roughly the same as last year. The remainder of the overall budget includes subsidies from Encinitas, Solana Beach, Poway, Vista and Oceanside, as well as membership dues and traditional hospitality industry co-op marketing funds.
The 232-member San Diego North CVB has a staff of nine full-time employees and one part-timer.
ConVis, which has 1,200 members and a staff of 66, will receive a city supplement of $8.8 million, which will lower its fiscal 2006 operating budget to $11.5 million. The remainder comes from private revenues that include membership dues.
But as dim as things look from a budget standpoint, the visitor bureaus may not have to rely on City Hall for a share of its 10.5 percent hotel room tax collection much longer.
Hoteliers in both Carlsbad and San Diego are reportedly making headway trying to put tourism business improvement districts in place that would impose a self-assessed fee that creates an independent revenue source for tourism marketing.
"That's a win-win," Mattson said, referring to the possibility of leaving more money on the table for City Hall's general revenue fund needs, while boosting tourism marketing funds at the same time.
- - -
Moving Up The Ladder: Loews Coronado Bay Resort & Spa has announced that Kristian Champion was promoted to director of its Sea Spa from the post he formerly held as the resort's assistant director of conference management.
Champion has 14 years of local and international hospitality industry experience, including seven years with Loews Hotels. In his new role, he will be part of Loews Coronado's management team and will direct Sea Spa's daily operations, including spa procedures, resort club memberships and its fitness and recreational programs.
Based in New York, Loews Hotels owns and operates 20 hotels and resorts in the United States and Canada.
Send tourism and hospitality industry news to Connie Lewis by e-mail to: clewis@sdbj.com. She may also be reached by phone at (858) 277-6359.