Callaway Wedged in Tight Spot
Monday, July 4, 2005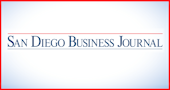 Big Bertha may be on the selling block, yet analysts who cover golf club maker Callaway Golf Co. generally say the purported $1.2 billion price is low.
Reports surfaced late last month that Callaway's board is weighing a bid of about $16 per share from private equity group Thomas H. Lee Partners and Fidelity National Financial. Carlsbad-based Callaway released a statement June 23 that it has received "unsolicited indications of interest from various parties from time to time."
"However, no firm offers have been made, no substantive discussions are under way and neither the board nor the senior management team has reached any decisions regarding the preferred strategic direction for the company," the statement said.
Callaway, whose shares trade on the New York Stock Exchange under ELY (its founder's first name), declined to make any further comment on the bid to take the company private, other than what was stated in its press release. Callaway also said it hired the New York-based investment banking firm Lazard Ltd. to help it review strategic alternatives.
Alexander Paris, the president of Barrington Research in Chicago, said while there may be some truth to the recent takeover bid, the offered price is low, given the company's potential growth.
"The bid was based on depressed earnings for Callaway, and depressed earnings for the industry, and it really doesn't reflect the value of their extremely strong brand name," Paris said.
Callaway, the No. 1 maker of golf club drivers including the hugely successful Big Bertha titanium driver, and the No. 2 maker of golf balls, has been struggling lately. Last year, it lost $10.1 million on revenues of $934.5 million, down from net profits of $45.5 million on revenues of $814 million in the prior year.
Missing The Forecast
In its first quarter, Callaway posted disappointing results, having net income of $18.4 million on revenues of $300 million, compared with net profits of $40.5 million on revenues of $364 million in the prior year's first quarter.
The earnings per share of 27 cents were well off the average forecast for the first quarter by Wall Street analysts of 49 cents.
"They've lost their way a little bit," said Tim Conder, an analyst with A.G. Edwards & Sons in St. Louis.
Yet Conder also noted the entire golf industry is in a slump, hurting from extreme competition that has resulted in a permanent pricing compression that cuts into bottom-line margins.
Callaway also had to assimilate last year's $164 million purchase of Top-Flite Golf Co., which made it the No. 2 manufacturer of golf balls.
Conder said that due to Callaway's tepid results and slumping stock, the company would likely generate interest from private equity firms such as Thomas H. Lee. The Boston-based investment fund has about $14 billion under management and has participated in several large corporate takeovers, including Houghton Mifflin and Warner Music Co.
Should Callaway be taken private, the new owners would probably hold the company for three to five years before putting it up for sale.
Rommel Dionisio, an analyst with Wedbush Morgan Securities in Los Angeles, also thought if Callaway is sold, this would be about the right time, since sales and profits are at historically low points.
"I can see why there's interest," he said. Dionisio was more inclined to think Callaway's future results will improve.
"I think a potential turnaround is in the works," he said. "They've had a difficult year, but this is a business that can turn around very quickly."
In his June 24 report for Wedbush Morgan, Dionisio wrote, "We believe this purported offer is too low for a company with leading market positions as Callaway Golf. With either a No. 1 or No. 2 market share in each of its major golf product categories (drivers, irons, putters, balls), Callaway Golf has an enviable market position and strong brand equity."
"With earnings currently at historically depressed levels, timing seems inopportune to sell the company now to maximize shareholder value in the long term," according to the Wedbush report.
Since news of Callaway's possible takeover broke, the stock price rose from the mid-$13 range to above $15 and closed June 30 at $15.43, giving it a market capitalization of $1.17 billion.
Callaway has about 3,000 employees, with more than two-thirds working in Carlsbad.