Firm Has Shot at Award For Santee Apartments
Monday, January 31, 2005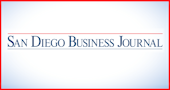 Representatives of the Rancho Cucamonga-based Southern California Housing Development Corp., a regional nonprofit affordable housing developer, will head to Miami in April to attend an awards gala.
As one of four finalists in the Washington, D.C.-based National Association of Home Builders' Pillar of Industry Award for Best Rehabilitation of an Asset category, So Cal Housing has gained national recognition for its success at the Shadow Hill affordable apartment complex in Santee.
On Jan. 15, the developer also gained national recognition for winning the Innovation in Workforce Housing Award of Distinction, also from the National Association of Home Builders, for the successful completion of its Paseo del Oro mixed-use development in San Marcos.
"This (nomination) for Shadow Hill is a huge accomplishment because the awards are voted on by our peers and by for-profit firms, which are our competitors," said John Seymour, the director of acquisitions and forward planning for So Cal Housing. "They are based on a variety of factors, including the quality of the construction, the difficulty in completing the project, the innovativeness of the project, and the type of social programs that are included in the project to serve residents of the community."
So Cal Housing "finances, builds, owns and operates" each of its projects, which distinguishes this nonprofit from other affordable housing developers in its class, according to Seymour.
So Cal Housing, which, since its inception in 1992, has completed 1,000 apartment units in San Diego, is now embarking on a nearly $20 million affordable housing project in San Marcos. It has partnered with, among others, Del Mar-based Brookfield Homes Corp. to build the 114-unit University Commons Apartments, recently renamed Melrose Villas.
The California Housing and Community Development Department provided a $7 million loan to finance the project. The remainder of the financing was supplied by California Community Reinvestment Corp., which provided a 30-year loan for $4.1 million, and "other equity sources," which provided an additional $8.5 million, according to Seymour.
The complex will consist of one- to three-bedroom units in two three-story buildings sprawled across 5 acres and is expected to be completed by February 2006. Seymour said monthly rents are expected to start at $332 for one-bedroom units and $451 for three-bedroom units. The entire complex will be devoted to residents earning 50 percent or less of the San Diego County median income, or about $34,000 annually, according to Seymour.
In addition, So Cal Housing has partnered with the city of San Diego to complete Talmadge Senior Village in City Heights, a mixed-use community for seniors, which it expects to complete in 18 months. Vista Terraza, in the master-planned part of the city, is yet another So Cal Housing project slated for completion in the fall.
Integral to the success of So Cal Housing's model are not only partnerships with private firms, such as Brookfield Homes and Texas-based D.R. Horton, Inc., but working relationships with city, county, state and federal agencies to assess affordable housing needs.

"We place great emphasis on our partnership with the city and local government, because without the cities, these projects don't happen," said Seymour.
- - -
$459,000 And Climbing? San Diego-based DataQuick Information Systems released its monthly countywide median home price data for December and for 2004.
So, for those who spent the last 30 days (since the November release) in agonizing suspense, wondering if median home prices here would finally stop appreciating in December, Jan. 17 must have been a major disappointment.
The overall median home price, which represents the midpoint of all sales in the county, increased by more than 20 percent in 2004, ending the year at $459,000, based on 60,886 transactions last year, according to DataQuick. In 2003, the median price for the year was $379,000, based on 59,526 transactions.
In December, the median price for all homes stood at $491,000, a county record and a 21.2 percent increase from December 2003, according to DataQuick.
Most notable, however, was the $103,000 month-to-month increase in the price of single-family resale homes, a category that represents nearly half the total market, in December. The median price of these homes reached a record $498,000.

But the prices of new homes did not experience an increase of the same magnitude. The median price for all new homes in the county, which includes newly built single-family homes, new condominiums and condo conversions in 2004, was $482,000, which was a 5.7 percent gain from 2003, according to published reports.
When asked for the most remarkable trend of 2004, DataQuick analyst John Karevoll said, "We were most surprised by the strength of the overall market, which outperformed all forecasts, both in terms of total sales and price appreciation during the year."
- - -
New Home Builder On The Block: A former vice president of project management at the San Diego office of D.R. Horton, Stefan LaCasse, 36, formed his own home-building company, Quinn Communities, in December.
LaCasse said the Encinitas-based home builder will focus on smaller infill projects, in and around North County and coastal areas.
Quinn Communities' initial projects include Bluewater, an $8 million, 11-lot subdivision in Encinitas, which will offer luxury single-family detached homes, and Leucadia, a $1 million condo conversion project that will include 29 units. LaCasse said he expects to complete the first development by June 2006.

LaCasse is an active member of the Building Industry Association and past president of the Homebuilder's Council. He said his goals for Quinn are "to grow the company and have two to five ongoing projects with 50 to 75 closings a year, while keeping a focus on the first-time move-up buyer."
Send residential and commercial real estate news to Heather Bergman via e-mail at hbergman@sdbj.com or via fax at (858) 571-3628. Call her at (858) 277-6359, Ext. 3114.