Customer-Friendly Model Means Success for Bank
Monday, January 24, 2005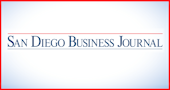 Based in Beverly Hills but operating in San Diego since 1979, City National Bank is one of the oldest nonlocal lenders here.
The regional bank with $14 billion in assets puts an emphasis on bringing the bank to its customers through courier services, the Internet and snail mail.
"We deliver the bank at the location of our customers," said Steve Cusato, the senior vice president and manager of the corporate banking group. "We like to get our people out of the office as much as we can, working with customers as much as possible."
The model seems to be working quite well, looking at City National's latest financial results.
This month, the bank reported net income of $206.3 million for 2004, up 11 percent from the prior year. It was the ninth consecutive year of profits. Total assets grew 9 percent to $14.2 billion.
City National's customer base locally runs the gamut from high wealth individuals to middle-market companies with revenues of more than $150 million, Cusato said.
"Our sweet spot is a company with about $40 million in revenues that's a wholesaler or manufacturer."
City National has three offices in the county , Downtown, University City and Carlsbad, and counts 120 employees. It also holds about $240 million in deposits and $900 million in outstanding local loans as of year-end.
In addition to City National's bank assets, the parent company and its affiliates manage some $16 billion. Assets under management or administration, primarily through brokered accounts, were $35 billion at the end of the year.
The company's stock, traded on New York Stock Exchange under the symbol CYN, closed at $69.71 on Jan. 18, giving it a market cap of more than $3.4 billion.
- - -
On A Mission: Mission Oaks National Bank, based in Temecula with a loan office in San Diego, beat out its peers in 2004 for both return on average assets (1.54 percent) and return on average equity (15.37 percent) while growing by nearly 25 percent.
According to the FDIC, some 350 similar-sized banks reported ROAs of 1.19 percent, and ROEs of 12.57 percent.
For the past year, Mission Oaks reported net income of $1.6 million, up from $1 million in 2003. Total assets increased by nearly $23 million to $115.9 million, while net loans grew about 25 percent to $82 million.
Another statistic Mission Oaks President Gary Votapka was happy to share was the absence of any non-performing loans, matching the same squeaky-clean portfolio at the end of 2003.
The bank with two branches and two loan production offices said it anticipates opening a third in Ontario this summer.
- - -
Healthy Offering: U.S. Bank's Institutional Trust & Custody unit is offering a new type of health savings account to its business customers, taking advantage of a change in federal law last year when the system was launched.
Health savings accounts, or HSAs, are similar to IRAs, permitting users to set aside the costs of their health care into tax-deductible, interest-earning accounts. The system gives users more control over how they spend for health care while allowing them to save funds that aren't used in any year to roll over for the following year, and grow until the funds are needed.
The new accounts aren't for everyone in that the trade-off for lower premiums is higher deductibles, and are still not well-known.
The U.S. Bank unit selling them said only 30 clients are using the accounts.
In other news, U.S. Bank said it is reaching out to Spanish-speaking customers by allowing them to apply for free checking, savings and money market accounts on its Spanish language Web site, usbank.com/espanol.
- - -
Wells Sells Unit: First Allied Securities, Inc., a Downtown-based brokerage owned by Wells Fargo & Co., will become part of Advanced Equities Financial Corp. following the recent signing of a definitive agreement.
"We're going to retain all the existing workers, and we intend to grow it, and acquire other firms," said Joel Marks, vice chairman and chief operating officer for Advanced Equities Financial, which is based in Chicago.
The terms of the sale weren't disclosed but the transaction was all cash, Marks said.
First Allied, founded in 1994, was purchased by San Francisco-based Wells Fargo in 2002. The latter intended to cross-sell the banking company's other products, but the strategy proved difficult because of a change in regulations governing the business, Marks said.
First Allied has 92 employees at its main office at 525 B St. and 465 independent brokers working in offices around the nation, including 36 in San Diego.
Part of the connection in arranging the First Allied deal was Adam Antoniades, the former president and CEO of First Allied, who joined Advanced Equities in July.
With the addition of First Allied, and an earlier acquisition of Round Hill Securities Inc. in California, Advanced Equities has about 600 brokers in some 200 branches, making it among the 20 largest independent brokerages in the nation, Marks said.
With other planned acquisitions, Advanced Equities expects gross revenues this year to hit about $150 million, up from about $60 million last year, Marks said.
Once the transaction closes later this quarter, First Allied Securities will continue to be headed by President Mark Dransfield.
- - -
Climbing The Ladder: Several community banks made key personnel decisions lately.
Jim Boyce, the former longtime president of Rancho Santa Fe National Bank, was named director at Landmark National Bank, which is based in Solana Beach. Boyce joined the bank in June as executive vice president.
Community National Bank of Escondido promoted Richard Sanborn, former senior vice president, to executive vice president, chief administrative officer. Sanborn was formerly with 1st Centennial Bank, which acquired Palomar Community Bank, where he was president and CEO.
At San Diego Trust Bank, headquartered appropriately in Bankers Hill section of San Diego, Toby Reschan was promoted to senior executive vice president and chief operating officer. Reschan helped organize the bank and is a founding director along with CEO Michael Perry.
At Security Business Bank in Downtown, Brian Smith was named vice president and commercial loan officer. Smith formerly recently held banking positions at U.S. Bank, Peninsula Bank of San Diego, Wells Fargo and Bank of America.
Send any finance or banking news to Mike Allen via e-mail at mallen@sdbj.com. He can be reached at (858) 277-6359.