Push Is on to Make S.D. the Home of Stem Cell Institute
Monday, January 17, 2005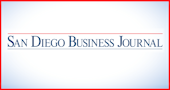 Dr. John Reed, one of 29 members of the California Institute for Regenerative Medicine's committee, which oversees grants for embryonic stem cell research, has a big agenda before the next meeting early next month.
He wants to push for making San Diego the institute's home, adopting the National Institutes of Health's guidelines for reviewing grant proposals, while identifying outside scientists to review grant applications.
As president and chief executive officer of the prestigious Burnham Institute in La Jolla, Reed heads one of the largest stem cell research programs in the nation. But he said the real work in moving the promising and controversial research, which involves the destruction of human embryos, is just beginning.
Scientists say stem cells could one day be used to treat some of the most devastating diseases, including spinal injuries, diabetes and age-related diseases such as Parkinson's.

The initiative, which was created in November when California voters approved Proposition 71, authorized up to $295 million a year for 10 years in taxpayer-funded bonds to pay for research projects and facilities, has already gotten off to a rough start.
During the first meeting of the 29-member committee in December, the agenda was cut short because of legal concerns about compliance with state open-government rules.
The only business completed was the appointment of Robert Klein, a Palo Alto developer and stem cell advocate, as chairman, and Edward Penhoet, former leader of Chiron Corp., as vice chairman.
During the second meeting, on Jan. 6, members appointed Klein as interim president of the institute with authority to hire staff and find temporary office space with a $3 million loan from the state treasurer to fund the effort.
The committee members also appointed several subcommittees, including one to locate a headquarters and office space and another trying to find outside scientists, and working groups charged with vetting applications and establishing standards for awarding grants.

But many hurdles remain.
Creating conflict-of-interest rules will be one of the largest hurdles the agency needs to overcome before designing intellectual property guidelines and doling out grants. Reed will play a role in tackling all of these challenging issues, with the other members pushing for their own agendas.
Time will be critical on some matters.
For instance, Reed said that members were given 30 days, or until the next meeting on Feb. 3, to come up with housing options for the institute alone.

Besides San Diego, several other cities, including San Jose, San Francisco and Los Angeles, are working on deals to make headquarters space available to the oversight committee.
Reed will work with Richard Murphy, the president of the La Jolla-based Salk Institute for Biological Sciences, who also sits on the housing search committee, to locate it here.
"I have placed calls to Malin Burnham and Doug Manchester, who have great knowledge about the real estate opportunities in San Diego and in our community to explore what might be available," Reed said last week.
To gain financial backing for the 15,000- to 20,000-square-foot leasing space, Reed will lobby community and business leaders and the municipal government for support.

"I would like to start with the idea of some organization to provide the space rent-free to the California Institute for Regenerative Medicine to offer an enticement to put the center in San Diego," Reed said optimistically.
A search committee has also been charged with hiring a full-time president to run the day-to-day operations with the help of about 50 support people.
At the last two meetings, some critics charged that the public lacked adequate advance notice of the meeting.
Charles Halpern, a public-interest lawyer from Berkeley who filed a complaint about the first meeting, issued a new set of charges after the second meeting.
Among them was a complaint that the committee failed to clarify what kind of research it plans to finance so that the public can assess the adequacy of the financial disclosures and conflict-of-interest provisions, according to the San Francisco Chronicle.
Another local oversight committee member, UC San Diego scientist Leon Thal, defended the committee's actions by saying that committee members had no staff to provide them with information.

Consequently, committee members had no more information than the public did, he said.
He says that the hiring of staff should resolve the issue.

Thal and Reed favor creating conflict-of-interest safeguards and informing the public about the types of research the committee plans to finance, but they draw the line at reviewing research proposals in public.
Anonymity is key for the grant-seeking scientist and reviewer on the review committee to ensure that the process remains nonpartisan and nonpolitical, let alone to safeguard intellectual property of the scientific data, they insisted.
To open it up in a public forum would be a "disaster," Thal said.
"People who critique them (scientists seeking grants) don't want to do that in front of an audience and good scientists wouldn't provide proposals if the information isn't treated confidentially," Thal said.

Both men strongly favor adopting existing review guidelines created and followed by the National Institutes of Health.
At the NIH, proposals are reviewed, critiqued and ranked based on their scientific merit by a committee of worldwide scientific experts in complete anonymity, said Reed.

This process is the most recognized and accepted model in the scientific community.
It is non-hierarchical and non-bias compared with those favored in Japan and Europe, he said.
In those parts of the world, "The established professors command large grants without justifying what they use the money for and then distribute it to the more junior people," Reed said. "It's far less supportive of the ingenuity and creativity (of young scientists) and less encouraging to young talented persons."
Given the board has already put conflict-of-interest safeguards in place, critics may have a tough time fighting nonpublic review, some insiders said.

As it stands under the exemptions written into Proposition 71, the agency's fiscal oversight committees are exempt from the state's open-meeting law when it comes to discussing patents, intellectual property concerns and scientific data it wants to keep confidential, according to published reports.
Halpern and others, including Californians Aware, a nonprofit group that promotes open government, have called on the committee members to ignore the privacy provisions.
But Reed defended the provisions by saying that the proposition clearly described how grants will be reviewed, and voters approved it.
"When voters voted, that's what they were voting for," Reed said. He added, "Now they should let us do our job and let us put the pieces together."