Delays at Border Still Hinder Local Economy
Monday, January 17, 2005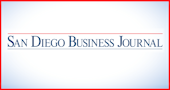 Three years after the terrorist attacks of 9/11, business and government leaders here are still trying to revitalize cross-border commerce.
Immediately after the attacks, the fear of travel and the massive delays at both the San Ysidro and Otay Mesa ports of entry crippled businesses along both sides of the border, and while officials are still grappling with the lingering effects of the attacks, a recent study by the San Diego Association of Governments, the region's planning agency, could provide a boost to Baja and San Diego.

In partnership with the California Department of Transportation, the new study aims at assessing the economic impacts of border wait times on the binational community.
Sandag Executive Director Gary Gallegos said the study will help policymakers understand the importance of cross-border travelers and its impact on the local economies.
"What we think happens is that when border wait times go up, Mexicans that might otherwise be contemplating coming to San Diego will change their mind and that trip doesn't get made," Gallegos said.
The result is an economic loss for both nations, Gallegos said.
The study also will provide essential information for developing policies, planning infrastructure and determining funding priorities to improve traffic flow at the borders, Gallegos said.
"This will be full of good information for all three levels of government , local, state and federal," he said. "So we can learn how to maximize the existing infrastructure (at the border). One key hurdle (to easing the traffic congestion at the border) is generating the funds. Now we will be able to work together."
The study will help Sandag develop an economic model as an analysis tool and will assess the economic impacts due to border-crossing delays on tourist, shopping, work trips and the effects on regional productivity.
From mid-November to mid-December, 2,000 surveys were conducted at the border, with 1,000 more to be conducted beginning Jan. 18, said Elisa Arias, a senior transportation planner for Sandag.
The survey asks pedestrians and people traveling in private vehicles and buses about their reasons for crossing the border as well as their expenditures at their destination.
"In general, larger delays deter people from crossing the border," Arias said.

In an attempt to reduce the congestion at the border and speed up wait times, Sandag is working on several projects, Gallegos said, including building a third port of entry crossing, which is expected to open east of the current Otay Mesa Port of Entry in 2007.

"In the next 20 years, travel across the border is going to double," Gallegos said. "In terms of the economic vitality of the region, we've got to keep working to open another port of entry."
Gallegos said conducting a study such as this is one step in that direction.

Other projects expected to ease border congestion include construction of state Route 905, which will connect interstates 5 and 805; construction of state Route 11, which will connect state Routes 125 and 905; and reopening the former commercial gate at Virginia Avenue, which is just west of the San Ysidro Port of Entry.
Big Spenders
Mexico's border residents spend up to $3 billion on products and services annually in Southern California, according to a 2002 report by the U.S.-Mexico Border Governor Conference, a working table consisting of the governors of California, Mexico, Texas and Arizona, and longer wait times are a continual threat to merchants in the San Diego region.
Current wait times can range from 15 minutes to several hours, said Cindy Gompper-Graves, the chief executive officer of the South County Economic Development Council and vice chairwoman for Sandag's committee on binational regional opportunities.
"When you only have so much time to shop and you have to get A, B and C and you have to wait such and such time in border traffic, it definitely impacts your decision (of whether to cross the border)," Gompper-Graves said. "We have people coming over here to work and they have to wait in line. How long will they wait for? That's the question."
Gompper-Graves said Sandag's study is a "step in the right direction" toward looking at the two regions as one.
"Our region expands beyond the man-made boundaries," Gompper-Graves said.

At the San Ysidro and Otay Mesa ports of entry, more than 5 million northbound crossings are made each month, according to Sandag.
The primary reason to cross the border for 42 percent of the travelers is to shop, with many stopping in Chula Vista, National City and the Plaza Las Americas in San Ysidro, which features restaurants and more than 75 stores.

Cross-border shoppers pay more than $100 million a year in sales tax on goods they purchased in San Diego County, resulting in $2 million in sales tax revenues for the county, according to a 1994 report by San Diego Dialogue, a community-based public policy program at UC San Diego.
Tina Medina, the general manager of the Chula Vista Convention & Visitors Bureau, said that while wait times are often long, they will not deter people from coming to San Diego.

"It is always a concern that increasing wait times will slow down the traffic into the region, but the reality is that if it takes 20 minutes to two hours, there are things over here that people need and they are not going to stop coming over here," Medina said. "The necessity to be here outweighs the inconvenience of wait times."