County Bonds Draw AA- Rating
Thursday, January 13, 2005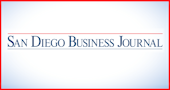 Fitch Ratings assigned an AA- rating to $115 million in certificates of participation, short-term bonds, scheduled to be issued by the county Jan. 19 for reconstructing Edgemoor Hospital in Santee, and affirmed the same rating on the county's $101 million in certificates and $1.27 billion in outstanding pension obligation bonds.
Fitch said the rating reflects the county's "strong, long-term credit characteristics as well as a sound lease structure for essential assets."
Fitch added, "The county's high credit quality rests in its broad and well-performing economy, sound financial operations and year-end balances, prudent fiscal management and low debt burden."
Last year, Fitch and Moody's reduced their ratings on some of city of San Diego's public debt, while one rating service, Standard & Poor's, suspended its ratings altogether.
The city has been unable to issue bonds until it completes its audit for its 2003 fiscal year, and investigations by the Department of Justice and the Securities and Exchange Commission into already-admitted errors and omissions in an earlier financial audit are completed.
-- Mike Allen