San Diego People
Monday, January 10, 2005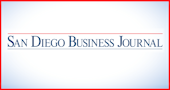 EXECUTIVE SPOTLIGHT: Greg White
Greg White has been named president and chief executive officer of Air-Trak, Inc., a developer of the Cloudberry GPS tracking and communications system. White served as interim CEO since August and has experience in all aspects of early-stage company growth, including strategic planning, team building, partnership development and fund raising. Before Air-Trak, White was a partner with Autobahn Consulting Group LLC and previously served as founding CEO of TriTeal. White also held sales management roles at Sun Microsystems, AGE Logic, Apollo Computer and Hewlett-Packard. "Greg's knowledge and leadership experience will accelerate the growth of Air-Trak's superior products and services," said John E. Major, a member of Air-Trak's board of directors and president of MTSG. "His strategic vision and partnering skills will enable the company to achieve its potential." Founded in 1999, Air-Trak develops location, tracking and communications systems.
BANKING AND FINANCE
Community Bancorp, Inc. appointed Michael P. Foley senior vice president/regional manager and Betty F. Dial senior vice president/commercial lending officer for Community's San Diego East County Region. Foley will oversee all banking and lending activities and has 31 years of banking experience, previously serving as vice president and regional credit officer for Community First Bankshares, Inc. Dial will be responsible for developing quality business banking relationships in East County and has 26 years' experience in East County lending. Dial is a former senior vice president, commercial lending officer with Community First Bankshares, Inc. KPMG LLP has admitted Elizabeth A. Altman and K. Denise Thompson to its partnership. Altman has been with KPMG since 1993 and provides audit services to electronics, software and services industry clients in the San Diego area. Thompson joined KPMG in 1986 and provides audit services to consumer markets and technology clients. Charlotte M. Buse was named vice president and branch manager of Ramona National Bank's La Mesa office. Buse has 30 years' experience in the banking industry, beginning her career as a teller and later becoming branch manager with Wells Fargo. Buse previously served as vice president/branch manager for California Bank & Trust in Alpine and El Cajon. Ramona National Bank also appointed William V. Ehlen to the bank's board of directors. Ehlen currently heads Iron Horse Investments, LCC and previously served as president, CEO and director of Valle de Oro Bank.

CONSTRUCTION AND DESIGN
Hilton Hayes has been promoted to associate with Robbins Jorgensen Christopher. Hayes has been with the company since 2003 and serves as senior project manager. Hayes has more than 26 years of architecture experience and has served as project design manager with Ameristar Casinos. Glen Farlow was promoted to general superintendent of the general contracting division with Barnhart, Inc. As general superintendent, Farlow will oversee superintendents and crew members as well as subcontractor and trade contractor work on Barnhart projects in the Temecula area. Farlow has been with Barnhart for 18 years, supervising and managing crews for construction work ranging from $1 million to $60 million. Douglas Childs, principal with Leary Childs Mascari Warner Architects, recently received board certification from the American College of Healthcare Architects. ACHA provides board certification for architects who practice as health care specialists. ACHA members represent planning and design expertise throughout the United States and Canada.
EDUCATION
Stephen P. Cushman, the president of Cush Automotive Group, was named to the San Diego State University College of Business Administration board of directors. The College of Business board provides expertise, oversight and advocacy to help the college reach its strategic goals and increase corporate and philanthropic giving. Cushman joins the board to help create linkages for students between the classroom and the workplace. Cushman has served on more than 50 boards and commissions, including chairman of the San Diego Convention Center.
GOVERNMENT AND NONPROFIT
Daniel Johnson, vice president of Environmental Business Solutions, has been appointed by Gov. Arnold Schwarzenegger to the nine-member San Diego Regional Water Quality Control Board. The board's mission is to preserve, enhance and restore the quality of California's water resources and ensure their proper allocation and efficient use. Johnson will utilize his technical background to assist the board and its staff with the complex, highly technical water quality issues that face San Diego. Jennifer Varsak was promoted to executive director of the Citizen Diplomacy Council of San Diego, formerly the International Visitors Council. Varsak has been with the organization since 2003, previously serving as program director. Tanya Chongchit and William Colestock also join the Citizen Diplomacy Council team as program associates.
HEALTH CARE AND BIOTECH
NuVasive, Inc. recently promoted Keith Valentine to president, Kevin O'Boyle to executive vice president and chief financial officer, Pat Miles to senior vice president of marketing and Jonathan Spangler to vice president and chief patent counsel. Valentine has served as executive vice president since 2002 and is responsible for research and development, regulatory and clinical affairs, quality assurance, marketing, customer service, distribution and legal patent matters. O'Boyle, who has served as senior vice president and CFO since 2003, is responsible for finance and accounting, operations, information technology and investor relations. Miles previously served as vice president of marketing and recently established new departments to focus on medical and surgeon education and corporate projects. Spangler has been chief patent counsel and group director of intellectual property since 2001 and is a former chief patent counsel for A-Med Systems, Inc. In conjunction with these promotions, NuVasive also announced that Alexis V. Lukianov's title is now chairman of the board and CEO. Nicodrops, Inc. hired Joel Appel as new director of sales and marketing for NCDP. Appel brings to NCDP many years of experience in sales and marketing of OTC brands. Appel will also sit on the Nicodrops Advisory Board.
HIGH-TECH AND MANUFACTURING
James Kelly was promoted to executive vice president and chief operating officer with Kyocera Wireless Corp. Kelly previously served as Kyocera's vice president of engineering and has been with the company since 2003. In his new role, Kelly will be responsible for Kyocera's engineering, product management and operations. Jeffrey A. Blazevich, vice president and controller for Applied Micro Circuits Corp., was appointed to the additional offices of CFO, chief accounting officer and secretary, to serve on an acting basis until a successor to those offices can be appointed. Blazevich has been with Applied Micro Circuits since 1999.
INSURANCE
Evon Rios was hired as a broker with Compass Insurance Group of Agencies, Inc. Rios will be responsible for increasing business, new and renewal, specifically in the professional liability arena. Rios has 21 years' experience in the insurance industry, most recently with KFIS, Inc. in San Diego.
MEDIA AND MARKETING
Laurie B. Arakawa was named director of account services with Geary Interactive. Arakawa previously was partner and worldwide management supervisor for Ogilvy Interactive in New York, where she worked with clients such as IBM, Eli Lilly, GlaxoSmithKline and Novartis. Arakawa is also a former vice president of account services with Yesawich, Pepperdine, Brown and Russell in Orlando, Fla. Bailey Gardiner Inc. hired Susannah Bandish as graphic designer and Elizabeth Yarnall as assistant account executive. Bandish, a 20-year veteran in the advertising industry and the owner of Banish Design, will be responsible for providing creative efforts to all advertising accounts. Yarnall previously served as a marketing coordinator for Affluent Target Marketing, a direct mail magazine. Bailey Gardiner also promoted Carrie Shields to public relations account supervisor. Shields joined BGI in May. Before BGI, Shields served as public relations manager for Benson Marketing Group in Napa Valley.
MISCELLANEOUS
Enterprise Rent-A-Car promoted Dan Pickett to regional rental manager, overseeing operations in North County. As the region's No. 2
executive, Pickett will supervise employees at 33 rental car branches. Previously an area manager along the county's central coast, Pickett succeeds Jim Wilson, who was promoted to regional vice president for coastal and southern Orange County. Mail Boxes Etc., Inc. appointed Tom Crockett vice president of marketing. Crockett will be responsible for managing the marketing function for both the UPS Store and Mail Boxes Etc. brands. Crockett has more than 20 years of experience in retail and franchise marketing in a variety of marketing management roles. New Way Landscape & Tree Services hired Dave Johnston as tree division manager and Scott Jones as a tree estimator. Johnston has been involved in tree work in San Diego for the last 25 years, having worked for the city of San Diego, and operated his own tree consulting business. Jones has been working in the horticultural field for 17 years and has an Advanced California Certified Nurseryman Certificate.
REAL ESTATE
Bob Berkins was named a sales representative at Carmel Pointe, a 200-unit condominium community in San Diego. Berkins has been selling real estate since 1991, previously working also as a loan officer and property manager. Carisa S. Bloomquist was promoted to tenant improvements project manager at Arden Realty. In her new role, Bloomquist oversees the planning and construction of tenant improvement projects for Arden's entire San Diego portfolio.
AWARDS & RECOGNITION
Brent Humpherys, real estate sales agent with Re/Max Associates' La Jolla office, earned the Re/Max Chairman's Club award for sales production in 2004. The Chairman's Club award, one of the highest annual sales awards in the Re/Max network, was created to give recognition to increasingly high levels of production by Re/Max sales agents. Humpherys joined the La Jolla office in December 2003. The San Diego Direct Marketing Association awarded San Diego State University marketing professor Michael Belch the Margaret Sellers Award for outstanding contributions to San Diego's marketing community. Belch teaches integrated marketing communications and marketing management at SDSU, where he has also received numerous Outstanding Professor awards. Glenn Fibiger of Landmark Asset Management Group was honored with the Principal of the Year award for his work as vice president of the BOMA board of directors and as chairman of the Strategic Long Range Planning Committee. Fibiger was also chosen by President Joe Murphy as the recipient of the President's Award. BOMA's Associate of the Year award was given to Jack Renshaw of New Way Landscape & Tree Services for his contributions to the Special Events Committee. Carrie Petro of Arden Realty received BOMA's Chairperson of the Year Award for her continued efforts as chairwoman of the Membership Committee and Traci Lagassee of Gordon & Rees LLP received the 2004 Rising Star award for her first year as chairwoman of the Programs and Seminars Committee.