Executive Profile: David Driggers
Monday, January 10, 2005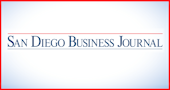 In 1996, computer consultant David Driggers teamed up with San Marcos retailer John V. Smith to better serve the computer needs of corporate clients.
In the intervening years, they have caught some mighty big fish: NASA, Shell Oil and Industrial Light and Magic, among them.
By now, their company, called Verari Systems, has two key patents covering rack-mounted "blade" computers and is on its second round of venture funding.
Driggers says his company has grown 80 percent to 100 percent per year, and it's still growing. Revenue should surpass $100 million this year.
Resume
Name: David Driggers.
Title: Chief executive officer.
Company: Verari Systems.
Age: 38.
City of Residence: San Diego.
Birthplace: Charleston, S.C.
Family: Wife, Summer Frost; 15-month-old daughter, Savannah; Mom, Dad, two sisters, brother-in-law, six nephews, one niece.
Education: Driggers is a 1984 graduate of Helix High School and a self-described "college dropout" who attended UC Berkeley and UC San Diego.
BUSINESS PHILOSOPHY
Essential business philosophy: Customer satisfaction is critical to be successful. Without customers there is no business. Great people build great companies.
Best way to keep a competitive edge: Listen to your customers. They will tell you where you need to be to stay on the cutting edge, as long as you actually listen to them rather than telling them.
Guiding principles: Customer satisfaction, people, quality, respect and innovation.
Yardstick of success: We measure our success by the success of our employees and our customers.
Goal yet to be achieved: Having our stock publicly traded.
JUDGMENT CALLS
Best business decision: Starting this business rather than working for someone else.
Worst business decision: Starting this business rather than working for someone else.
Toughest business decision: Taking on venture funding in 2003 and inviting in outside help to build the company.
Biggest missed opportunity: Not spending more time and money during the Internet/dot-com boom.
Mentor: I do not have a true personal mentor, but the greats of our industry inspire me: Gates, Dell, Waitt, Ellison, etc.
Word that describes you: Passionate.
TRUE CONFESSIONS
Reason for getting into the computer business: I fell in love with computers early on in high school. I was fascinated by them.
What you like best about the computer business: The constant evolution of the technology.
What you like least about the computer business: The monopolies have destroyed a lot of the opportunity to create really cool new technology.
How the computer business has changed: It used to be an entrepreneur's paradise. Now it is much harder.
Pet peeve: Not putting yourself into someone else's shoes when you are being critical.
Most important lesson learned: You can always work smarter.
Person most interested in meeting, living or dead: There are so many great people who are dead that I would like to meet, but probably Winston Churchill. He always seemed to get the big picture. Living would be Bill Gates.
Most-respected competitor: IBM. They just keep on coming.
Three greatest passions: My family, my employees and food.

First choice for a new career: Restaurateur. I would be operating a fun bar or a gourmet restaurant.
PREDILECTIONS
I'm currently reading: "Jack, Straight From the Gut," by Jack Welch.
Favorite quote/saying: "My whole life is have to. " , From the Steve Martin movie "Parenthood."
Favorite cause: Anything having to do with helping children in need.
Most influential book: None.
Favorite movie: I love movies so much, I could never pick a favorite, and it really would depend upon my mood at that moment.
Favorite restaurant: This is also tough. It would have to be California Cuisine for most regular occasions, though. The food is always excellent and the service unobtrusive.
Favorite place for business meetings: For lunch, Harry's Bar and for dinner, Donovan's.
Favorite vacation spot: Whistler in the winter and Hawaii any other time.
Favorite way to spend time: Playing with my daughter.
Favorite status symbol: Many people think it is a status symbol, but to me it is just the best place to be on a sunny San Diego afternoon, in my red BMW M3 convertible.