Shidler Group Completes $142M Purchase
Wednesday, January 5, 2005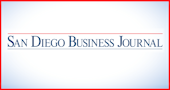 The Shidler Group, a San Diego-based private real estate investment firm, purchased a 19-building, 1.1 million-square-foot portfolio of office and research-and-development space for $142 million.
Ten buildings and 366,988 square feet of that purchase are in the Sorrento Mesa and Miramar areas, translating into a $47.7 million investment in San Diego, according to a Jan. 5 announcement of the deal.
"We are very bullish on San Diego," said Matt Root, a partner in the Shidler Group.
Root said the buildings in the portfolio were 90 percent occupied going into the deal, and so managing the new properties will mainly involve rolling over risk.

"I think obviously we are coming off of what I would consider a slow period in leasing velocity, but we have seen activity pick up dramatically in the last 90 days."
The Shidler Group owned about 3 million square feet of commercial property in San Diego before the purchase.

In the transaction, the Shidler Group, and the seller, Arden Realty Inc., were represented by Secured Capital Corp.

-- Heather Bergman