Tech's Future Depends on Who's Asked
Monday, January 3, 2005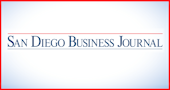 Ask executives from San Diego's high-tech sector for a prediction about the year ahead and you might not hear a unanimous opinion.
An executive's outlook will depend largely on which electronics, software or telecom company you approach.
Drive to the industrial park north of Miramar Road and you'll find Verari Systems Inc., a maker of powerful computer servers. The company plans to increase its staff by 40 percent during 2005 to meet growing demand for its product, according to Chief Executive Officer David Driggers.
Head north to Rancho Bernardo and you will find the campus of Cymer, Inc., which makes laser light sources that sit at the heart of microchip-fabricating machines. After posting record sales in the third quarter of 2004, Cymer has fewer people knocking on its door. In October, the company cut staff by 14 percent. In December, the company said revenue would be below its guidance, and that demand for consumables, spare parts and service was down.
"At this time, our business has become more volatile and less predictable than it was a short time ago, and visibility remains limited to less than one quarter," said Bob Akins, Cymer's co-founder, chairman and chief executive.
The events of the next 12 months, of course, are a mystery. But executives from a handful of electronics, software and telecom companies offered predictions about what the new year may bring.
Privately held Continuous Computing Corp. expects to grow in a way that could eventually culminate in an initial public offering. The timing of that offering has not been decided.
The company, which employs 150 people in its San Diego headquarters, makes software and hardware for other companies that manufacture voice-over-Internet and wireless telecom systems. Revenue has grown from $21.7 million in 2003 to an estimated $40 million in 2004. And the hiring continues.

Listening to Continuous Computing chief Ken Kalb, one could conclude telecom was coming back after its slump. He spoke of traveling overseas and seeing how carriers want to provide more types of services to customers.
"For equipment manufacturers, it's a great thing," Kalb said.
Qualcomm Inc., the wireless telecom technology company, completed a $4.9 billion fiscal year when it closed its books in September. It forecasts revenue of at least $5.8 billion, which would be a record for Qualcomm, in the current fiscal year. The most optimistic scenario calls for a $6.3 billion year.
Senior executives with Sweden-based Telefon AB LM Ericsson recently forecast slight growth in the global mobile systems market and good growth in the professional services market. Ericsson's CDMA infrastructure unit employs 700 people in San Diego and in Boulder, Colo.
Executives with two technology companies , one large, another medium-sized , said local housing prices work against recruiting and retention.
"We have had a lot of losses this year , more than I'd like," said John E. Jones, the chief executive of St. Bernard Software, Inc., a 190-employee company in Carmel Mountain Ranch. Frequently it's a combination of hitting their 30s and housing prices that sends talented people toward the door.
Seventy percent of his staff is younger than 30, Jones said, and a larger percentage has college degrees. The median salary at St. Bernard is in the $70,000 to $80,000 range.
When employees decide to have a family, Jones said, they become concerned about affordable housing for that family , and the long commutes that might entail. So they leave for another job , often to Oregon, Idaho or Utah. Jones said he "can't argue" with an employee intent on leaving for a place where a four-bedroom house costs $225,000.
"I would seriously entertain moving the company out of San Diego," Jones said, if not for the fact that would displease the employees who love the other things San Diego offers.
St. Bernard Software makes computer security and network security products. Jones said 2005 ought to be a good year for software. The private company does not disclose sales figures. Jones said sales could grow 30 percent or more during 2005.

One product that could provide growth within 12 to 18 months, he said, is software that keeps malicious code away from Internet-based telephone systems.
Both Jones and Alan Chow, boss of NCR's Teradata operation in Rancho Bernardo, say high housing prices make recruiting out-of-towners difficult. Teradata employs more than 1,000 people in San Diego and specializes in computerized data warehouses.
Chow said his company will hire more people in 2005. On a percentage basis, he said, his staff will grow in the "high single digits." The company needs people for research and development as well as "demand creation" , that is, salespeople and industry consultants.
Teradata caters to Global 3000 companies. Chow said he hears that information-technology spending will grow moderately in 2005, but he warned that companies will spend money with care, emphasizing return on investment and speed of return.
Big business uses another San Diego computing product: blade servers from Driggers' company, Verari Systems.
Verari builds them in San Diego, using commercial, off-the-shelf parts. Large corporations buy the servers in multiples of 64 or 128, and run their choice of Linux, Unix or Windows on them, Driggers said.
Oil and gas, an industry that by Driggers' account has 10 times more data than it can process, uses the servers. "Any oil and gas center, we tend to be in," Driggers said, adding that the computers are in Russia, Mexico, Indonesia, Egypt, Norway and other international locations. Verari has 30,000 processors in Houston, he said.
Pixar and Industrial Light & Magic have used its computers to create animation and special effects for the film industry.
While the IBMs, Dells and Hewlett-Packards of the world are in the market, there are still plenty of niches for "Tier 2" vendors, Driggers said. Rackable, a computer-maker in the San Francisco Bay Area, is one such competitor, but "we don't tend to see them that often" in the marketplace, Driggers said.
Verari changed its name from RackSaver Inc. in 2004. That same year it received a little more than $13 million in venture funding; the Carlyle Group of Washington, D.C., led the Series B round.
Verari's sales have grown by 80 percent to 100 percent in the last five years, Driggers said, adding that he expects revenue "north of 100 million" in 2005. Hence the plan to increase his staff by 40 percent.
He hopes to take that to $8 billion by 2008 or 2009 , if the company grows as quickly as the market is expected to grow.