Stem Cell Research Panel Must Overcome Challenges
Monday, January 3, 2005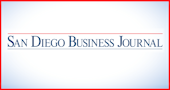 One thing San Diego's prominent leaders of research institutions and other members of the state's new oversight committee for embryonic stem cell research can count on is that 2005 will be different and challenging.
On Dec. 17, the 29-member Independent Citizens Oversight Committee, which will decide how to invest $3 billion in research and facilities funds during the next decade, convened for the first time.
Among the scientists, educators and patient advocates appointed to the committee by elected officials , Gov. Arnold Schwarzenegger, Lt. Gov. Cruz Bustamante, Treasurer Phil Angelides and Controller Steve Westly , are five San Diegans. They are: Richard Murphy, the president of the Salk Institute for Biological Studies; John Reed, the president and chief executive officer of the Burnham Institute; Dr. Edward Holmes, UC San Diego's vice chancellor for health sciences; Leon Thal, the chairman of the Department of Neurosciences at UCSD; and Tina Nova, the CEO and president of San Diego-based closely held biotechnology firm Genoptix Inc., which tries to develop tests to help doctors determine the best medicine for treating patients.
They will be facing a balancing act that the initiative, which California voters passed as Proposition 71, brings with it.
The work is controversial, because it involves the destruction of embryos to create new lines of cells. Scientists say because the cells can be turned into any type of cell, they hold great promise for treating devastating diseases.

But the stakes are high.

Supporters of embryonic stem cell research have repeatedly said that errors by the agency in terms of ethics, oversight, research and accountability could stifle continued funding.
Critics find the lack of conflicts of interest and public disclosure requirements troubling.
For many people, the promise of understanding and treating such devastating diseases as Alzheimer's and Parkinson's, diabetes and spinal injuries, however, is their best hope for a better life.
A Day Of Hope
For them, the first meeting, which took place at UC San Francisco, was a day of celebration and hope.

News from UC Irvine that a scientist made paralyzed rats walk again by injecting them with treated embryonic stem cells to repair their damaged spines underscores hope that it could do the same for humans.

The reality is different, though. Research has shown time and time again that it is a long way from rats to men.
It will take many years before scientists will even be close to bringing experimental treatments into human testing, let alone trying to win their approval.
"There will be a lot of basic research (to be done) before stem research will lead to things that will help people," said Gerald Yakatan, the president and CEO of Avanir Pharmaceuticals, a San Diego-based publicly traded biotechnology company that has no involvement in stem cell research.
A Ph.D. scientist, Yakatan cautioned that people shouldn't have a short-term view on what will come out of the science.
David Hale, who is also a trained scientist and CEO of Carlsbad-based CancerVax Corp., which develops a cancer vaccine, says San Diego's top-notch scientists and research institutions make it a fertile ground for embryonic stem cell research to thrive.
"San Diego is already a major center of research excellence," Hale said, pointing to UCSD, the Burnham Institute and Salk Institute.

Reed had expressed high hopes that the initiative will provide funding to greatly expand embryonic stem cell research programs at the Burnham Institute.
He envisioned the creation of a State Cell Resource Center, which would partner with in vitro fertilization clinics to obtain leftover embryos under patients' consent.
The idea is to create new cell lines that would be made accessible to scientists statewide, Reed said.

But some people may want more oversight.

Ethicists have stressed that it will be key for donors to be fully informed about the intended research when they give their consent.
They are likely to join scientists this year on implementing guidelines to assure this.
How grants will be implemented will also be a big challenge this year, an effort some believe should be guided by ethicists.
Critics, however, say that isn't enough.
The way it stands, members of the board are prohibited from voting on grants to institutions of their employers, but they will be voting on funding for the employers of other members, which some people find troublesome.
Others don't think that the committee should be allowed to hold closed sessions to discuss trade secrets, scientific research and other sensitive matters of public interest.
Already, the first meeting wasn't without controversy.

Attorney Charles Halpern was among several people who said publicly that more information should have been available about the candidates to lead the committee.
For one, there was only one nominee for the top post , Robert Klein, a Bay Area real estate developer who spent millions of his own money to get Proposition 71 on the ballot.
Board members unanimously elected Klein as chairman, dispelling raised concerns about his lack of scientific training. Klein is an attorney.
In addition to Klein, the board elected Edward Penhoet vice chairman.
Penhoet co-founded Emeryville-based biotech giant Chiron Corp. and has served as the dean of UC Berkeley's School of Public Health.
He now heads the Gordon and Betty Moore Foundation.
That was the only business of the day.
The agenda of the panel's first meeting was cut short because of criticism from the public about the election process.
With the results settled, Klein said he wants to reconvene the board in the first week of January to pick up where the agenda was cut short , that is talks on conflict-of-interest guidelines, hiring procedures, and ethics, according to the Los Angeles Times.
He also wants to distribute the first grants to scientists in May.

Klein has a personal interest in speeding up the research.
His 14-year-old son has insulin-dependent diabetes, one of the disease areas that embryonic stem cell research holds promise for.

While it will likely take 10 years or more before the research yields any treatments, people will lay the groundwork in 2005 in the form of grants and loans to scientists and new facilities.