S.D. County Transportation Projects to Keep Rolling
Monday, January 3, 2005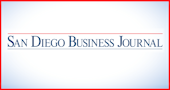 From the North County rail line running from Oceanside to Escondido to the state Route 125 South tollway in Otay Mesa, San Diego County transportation projects are in full swing and will continue to move forward in 2005, according to local transportation officials.
Beginning this year, several vital transportation projects will get off the ground and begin construction, according to the San Diego Association of Governments, the region's planning agency.
Most of the new construction is slated to occur on mass transit projects, including the $350 million Oceanside-Escondido rail line, dubbed the Sprinter, and the $670 million midcoast trolley extension, which will extend from Mission Valley to University Towne Center.
Other projects include the Interstate 805 freeway shoulder project, which will allow buses to run along the freeway shoulder; the nearly $1 million Bus Rapid Transit showcase project in Chula Vista, a 13 mile bus rapid transit line between Otay Ranch and Downtown via I-805 and SR-94; and the complete implementation of the $34 million automatic fare technology, which will allow passengers on all county and city buses to pay their bus fare through a type of charge card, known as the Compass card.

Construction on the SR-125 south tollway, which began in 2003, is also expected to continue.
The $400 million SR-125 project, which will improve the mobility and accessibility to the Otay Mesa Port of Entry, is scheduled for completion in 2006.

With many projects just beginning to see the first signs of construction, other projects are expected to be completed in 2005, according to Sandag officials.
The much-anticipated Mission Valley East extension, which will connect Mission Valley to La Mesa via the trolley, is expected to be completed this year.
The nearly $500 million project will parallel the Interstate 8 corridor, a region which is expected to grow to nearly 300,000 residents by 2015.
Garry Bonelli, communications director for Sandag, said by late 2005 the Mission Valley East trolley line is projected to attract more than 2.5 million new annual transit riders in the region as a result of improved transit connectivity.
"(We hope to) ease congestion and enhance transportation capacity within the busy Interstate 8 corridor by generating more than 11,000 new trolley trips a day on the new Mission Valley East trolley line extension," Bonelli said. "This really is the crown jewel."
Also to be completed in 2005 is the $25 million San Ysidro Multimodal Transit Center, which will help organize different forms of transportation, and the $138 million SR-54/SR-125 gap and connector project.
"The overarching goal is to 'keep San Diego moving,' " Bonelli said. "And we want to offer time-competitive travel options; move more people, not just vehicles. To meet this goal we need to offer a variety of solutions from new and improved HOV (high occupancy vehicle) lanes/managed lanes; additional highway lanes; new and expanded trolley and rail service; and vanpool, carpool, telework and flex-time options. This means informing the driving public and working with regional employers to help the commuting work force 'survive the drive.'
"Key highways in the area will be expanded and upgraded as construction occurs on I-5, I-15, I-805, SR-905, SR-125, SR-76 and SR-52 in coming years."
Funding for these projects, however, will be one of the biggest challenges for Sandag and the region in 2005.

"Overall funding comes in three buckets: local, federal and state," said Gary Gallegos, the executive director of Sandag. "On local funding we are very excited and thankful that the voters passed Prop. A (the half-cent sales tax expected to generate $14 billion through 2048 for transportation projects throughout San Diego County); that secures the local funding. And we can then use the local dollars to leverage for state and federal dollars."
For the last two years, the federal government has not been able to agree on a spending plan, meaning that transportation officials have not been able to plan projects needed in the region, he said.

Gallegos said he is hopeful that by June or July the federal government will be able to agree on a spending plan, allowing him to do his job better.
"We are excited that with the new year we are going to be able to finish some projects and make some progress on others," Gallegos said.

While 2005 will bring transportation projects to the forefront, Gallegos said, 2007 will be the year that everyone will get excited about.
In 2007, the Mission Valley East extension will be completed, as well as the managed lanes on I-15, easing the traffic from Miramar to Lake Hodges in Escondido, he said.