Base Realignment Decisions Coming This Year
Monday, January 3, 2005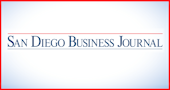 The Pentagon is many things. It is a large organization. It is a powerful organization. And when considered purely as an enterprise that develops a budget, it is a slow organization.
The Department of Defense budget process moves so slowly that by Patrick D. Moneymaker's estimation, the effects of the Sept. 11, 2001, terrorist attacks have not yet fully appeared in it.
Moneymaker is a former Navy pilot and a retired rear admiral who is president of Ocean Systems Engineering Corp., a Carlsbad company that specializes in software engineering for the Defense Department.
In the Pentagon budget cycle, it may take three or four years to figure out how to fund new programs, then get money into an account to address requirements, Moneymaker said.
The Pentagon's budget for fiscal 2005 budget is $416 billion, excluding supplemental appropriations for the war in Iraq and Afghanistan. By Moneymaker's estimation, the Pentagon is still in a building mode.
When it first proposed its fiscal 2005 budget in February, the Pentagon estimated that it would need $423 billion in 2006, $444 billion in 2007, $466 billion in 2008 and $488 billion in 2009. But a recent Los Angeles Times report indicates the White House may want to rein in Pentagon spending, and soon, to counteract the federal budget deficit.
The Pentagon plays a big part in making San Diego's economy as robust as it is. The San Diego Regional Chamber of Commerce estimates that the Pentagon spent $13.4 billion in San Diego during 2003 , the latest year figures are available. That is a 5 percent gain from 2002.
The year 2002, by the way, was spectacular in itself. In San Diego County, defense spending jumped 21.7 percent over 2001 levels.
Military payrolls, including extra combat pay for locally based sailors and Marines, helped swell the amount coming to San Diego. So did local procurement.
More Baggage
Big changes may be on the way, however. Attempts to deal with the deficit may slow the growth of the Pentagon budgets.
On top of that, 2005 carries some other baggage.
The Pentagon's Base Realignment and Closure process kicks into high gear this year. Pentagon leaders have indicated they want to get rid of roughly one-quarter of its military-base capacity. Significant closures and consolidations are on the horizon, though it is unclear where that will happen.
Much of the work has been done behind closed doors. In May, the secretary of defense is expected to make public a list of bases he would like to see closed.
That will set the stage for an interesting summer. A panel of BRAC commissioners who have yet to be appointed , will hold hearings on the base-closure list and will have the opportunity to modify it. By September, the president will have to approve or deny the commission's modified list.
Early in 2003, a consultant hired by the city of San Diego and other civic organizations identified five bases and activities "at risk of closure." They are Space and Naval Warfare Systems Command headquarters in Old Town, Spawar Systems Center in Point Loma, the Marine Corps Recruit Depot near Downtown, Submarine Squadron 11 and Naval Air Depot North Island. The latter is the aircraft repair facility at North Island Naval Air Station.
Base closures will have economic consequences for San Diego. For example, many small firms are here because of their proximity to Spawar.
Potential Gains
With all this, Frank Hewitt is upbeat. Hewitt, who is a leader in San Diego's defense contracting community, said the region might gain bases during the BRAC process.
"Overall I don't think it's doom and gloom, but quite the opposite," said Hewitt, the chief executive of ComGlobal Systems, Inc. and president of the San Diego Military Advisory Council.
The Defense Department wants to put more resources in areas where its fleet is concentrated, Hewitt said. Under that scenario, towns such as Norfolk, Va., and San Diego would gain military bases rather than lose them.
Some of San Diego's facilities "could grow in a joint way," Hewitt added. "Joint" is Pentagon shorthand for more than one of the military services. In other words, pure Navy facilities in San Diego could expand to house operations of the Air Force, Army or Marines.
San Diego has another card to play, Hewitt said. It has a strong congressional delegation, capable of working in a bipartisan way.
Because of BRAC alone, 2005 will be a year to remember. But there are other reasons.
"We feel like we have a pretty good head of steam up," said Ocean Systems Engineering Corp.'s Moneymaker.

Bigger Business
His company has 265 employees across the United States and could add as many as 75 this year. The company, called OSEC for short, recently outgrew the government program that gives preferences to small businesses. And it could pass another milestone this year. Moneymaker said he expects to turn his company into an employee-owned enterprise.
Bill Gang said his company, Information Systems Laboratories, will likely hire a dozen or more full-time employees with advanced degrees. Currently, the company employs 124 people, including consultants. ISL produces software and hardware including an aerostat (a surveillance blimp on a tether) deployed over Baghdad. Gang, the company's chief operating officer, expects $21.7 million in revenue this year, up from $18.7 million in 2003. Growth ought to continue in 2005, he said.
Hewitt said he expects 10 percent to 15 percent growth at ComGlobal, where the fiscal year is half-over. The information-technology company did $40 million worth of business in fiscal 2004 and has 200 employees , 70 of them in San Diego.
The three executives said President Bush's victory over Massachusetts Sen. John Kerry meant good things for the defense industry.
Election results elicited "a sigh of relief" from local contractors, Moneymaker said.
Gang said there will be "less threat of disruption" than there would have been under a Kerry administration.
Hewitt figures there will be less chance that bases will be consolidated to Kerry's home state. Massachusetts is home to a facility similar to Spawar , the Air Force Research Laboratory at Hanscom Air Force Base.