S.D.'s Leap Wireless Wins Four Licenses
Monday, February 28, 2005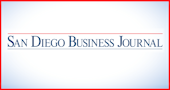 Leap Wireless International Inc., the San Diego-based flat-rate carrier, is bringing its pre-paid service back home.
The spinoff company from Qualcomm Inc. that emerged from Chapter 11 bankruptcy protection in August, announced it was the winning bidder for four wireless licenses , San Diego, Houston, Kansas City, Mo., and Temple-Killeen, Texas. The Federal Communications Commission conducted broadband Auction No. 58 over three weeks that ended this month.
Leap said the combined price for the four licenses was $166.9 million. In addition, the company's Cricket Communications subsidiary participated with a partner entity, Alaska Native Broadband LLC, to win bids on nine other licenses in the same auction.
The total outlay for the nine licenses that cover some 10 million potential customers came to $68.2 million.
Leap Wireless loaned ANB the funds to bid on the open licenses, and has agreed to loan the entity up to $89 million.
In winning the San Diego license, Leap will be competing against all the major wireless carriers, including Cingular and Verizon. The local area has 3 million potential cell phone customers.
"We think San Diego represents a tremendous opportunity for Cricket's service, given the overall demographics of the market," said Jim Seines, Leap Wireless' director of investor relations and public affairs. "The segment that has been most receptive to our service is the Hispanic population, and the under-served population."
By under-served, Seines referred to those unable to pass a standard credit check, or qualify for long-term contracts.
Cricket offers its prepaid basic plan for unlimited calls for $29.99 a month. The service does not provide roaming capability, or receiving and calling outside the area. Leap said it hopes to begin providing roaming service for an additional cost by the first half of this year.
Seines declined to say how much of the local market Cricket hopes to capture and how much investment in capital spending setting up a wireless network would cost, but those costs will be significant.
"My guess is that if they intend to provide wireless service throughout the county, they will have to build between 100 and 150 cell sites, and each site may cost about $250,000," said Andy Seybold, a Santa Barbara-based telecom analyst. The minimum estimate for infrastructure would be $25 million.
Seybold said the Cricket model should win plenty of customers. "Their concept of a flat-rate service with no bells and whistles is a model that the big boys aren't playing," he said.
The Houston market is actually the largest with 5.6 million potential customers. Kansas City has 2.2 million and Temple-Killeen has 400,000.
The nine licenses bid on by ANB were for Cincinnati; Lexington and Louisville, Ky.; Colorado Springs, Colo.; Austin, San Antonio, El Paso and Bryan, Texas; and Las Cruces, N.M.
Cricket is available in 39 markets in 20 states and has about 1.5 million customers. The last license Leap purchased was Fresno and Modesto last year. It allocated between $20 million and $25 million to build out that network, which should begin operating by the fourth quarter, Seines said.
Leap has about 1,500 employees across the nation, including 240 at its Sorrento Mesa headquarters.