Firms Turn to Sports to Boost Their Revenues
Monday, February 28, 2005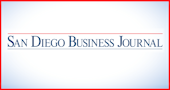 Qualcomm Stadium, Petco Park, the Pacific Life Holiday Bowl, Cox Arena, the Buick Invitational.
Beginning to see a pattern here?
Sports and major companies go together like green eggs and ham.
The world has become one giant billboard. Everywhere you look , the floor of a supermarket, every inch of Petco Park where there's not a baseball diamond, seat or concession stand, and the constant pop-up ads on computers , there are advertisements.
So I guess we shouldn't be surprised that Corporate America has dived headlong into the sports world.
Corporations know that men ages 25 to 54 are big sports fans and advertising on sporting events is a great way to reach that key demographic.
But how much value is it for businesses to attach their name to a stadium or tournament?
Framingham, Mass.-based Staples, Inc. spent $100 million for the naming rights for 20 years to the Los Angeles Lakers', Clippers' and Kings' palatial home. The firm would have to sell a lot of staples to recoup that money.
Qualcomm Inc. came along at the right time and snared naming rights to the San Diego Chargers' and Padres' home for $82 million less than what Staples spent. When San Diego Jack Murphy Stadium was undergoing a major face-lift in 1997, but needed $18 million to complete the renovation, the San Diego-based electronics company made the payment necessary to finish the work in exchange for naming rights until 2017.
Since the "Murph" got a new nickname, the "Q," the Mission Valley complex has been the site of two Super Bowls and one World Series. In 1998, Qualcomm Stadium became the first ballpark to host a Super Bowl and a World Series in the same year. Now that's some pretty big bang for the buck.
Bertha Agia, manager of public relations for Qualcomm, talked about the company's decision to acquire naming rights to the stadium.
"Qualcomm's marketing efforts at the time (1997), due to our handset business, supported generating awareness around the Qualcomm name, and generating demand for our CDMA phones," she said.
Agia would not elaborate on whether the firm's decision to garner naming rights has helped Qualcomm achieve its goals.
A spokesman for Pacific Life Insurance Co., based in Newport Beach, would not specify precisely how much the firm spent to have its name on San Diego's Holiday Bowl, saying only that the company paid millions of dollars for four years of naming rights.
Tennyson Oyler, Pacific Life's public affairs manager, said having the company name on the contest often called America's Most Exciting Bowl Game was important because the college football game generates high ratings on ESPN television. Additionally, the contest offers the firm a chance to entertain some of its key clients.
Pacific Life, with some 15,000 clients who have about $1 billion in insurance coverage in San Diego County, said it is not able to directly measure the impact of its sponsorship, but knows that it helps in its effort to increase its brand awareness, Oyler said.
Pacific Life will be sponsoring this year's Holiday Bowl, tentatively scheduled for Dec. 29 at Qualcomm Stadium, but is unsure if it will continue to sponsor the game after its contract expires this year.
One firm says it is certain that its sports sponsorship has improved its bottom line.
The Buick Invitational tournament at Torrey Pines Golf Course has boosted revenue at Buick, a division of Detroit-based General Motors Corp.
"We have noticed an increase in sales in this market in the period immediately following the Buick Invitational," said Larry Peck, Buick's golf marketing manager. "Part of that is because of the courtesy cars made available after the tournament. We also take advantage of the tournament's national coverage to launch new advertising."
Atlanta-based Cox Communications, Inc. will not have to worry about negotiating a new deal to keep the name Cox Arena for a while.
Cox has an agreement with San Diego State University through 2009.
A representative for Cox Communications says Cox Arena, which opened in 1997, has helped the company financially.
"The Cox Arena deal was multifaceted and included items such as cooperative distance learning projects, telecommunications services, and rights to televise Aztecs sports events, in addition to the specific branding opportunity at the arena," Cox spokeswoman Ceanne Guerra said.
San Diego County is chock-full of sponsored sporting events , the Accenture Match Play Championship golf tournament, Acura Classic tennis and the Foot Locker Cross Country Championships.
What's next , a sponsored team name? How does the Century 21 San Diego Chargers sound?
Brad Sondak is the deputy editor of the San Diego Business Journal.