Businesses Taking Advantage of Legal Loophole
Monday, February 28, 2005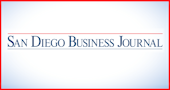 Captiva Software Corp., the San Diego-based maker of document management software, joined a growing list of public companies that are taking advantage of a legal loophole in the accounting regulation mandating that the value of stock options be reported on the balance sheet.
Although the rule by the Financial Accounting Standards Board, the industry's rule-making body, doesn't take effect until July 1, many other public firms are doing the same thing as Captiva, accelerating the vesting period for stock options previously granted.
By doing so, Captiva said about 500,000 in options that would have become fully vested in the next 39 months are now fully vested. Those half-million options all have exercise prices above $11.51, Captiva's closing price on Feb. 9, the effective date of the acceleration.
Those shares that are equal or below $11.51 will continue to vest on their normal schedules, the firm said.
Because of the vesting acceleration, Captiva said it expects to save about $2.2 million in expenses it would have been required to report starting in July and extending to 2007.
For 2005, Captiva said it will save $775,000 in non-cash compensation expenses.
Public companies, especially smaller, high-tech startups, have used stock options to supplement salaries to workers, and as an incentive mechanism to generate more job dedication. Previously, companies granting the options had the choice of reporting their values on the expense portion of the balance sheet, or in footnotes in their financial reports. Nearly all chose to do the latter.
On Feb. 22, Captiva, traded as CPTV on Nasdaq, closed at $11.76, giving it a market cap of $143 million.
- - -
BakBone Delisted Again: BakBone Software, a Sorrento Mesa-based maker of backup and data protection software, saw its stock delisted from the Over the Counter Bulletin Board this month, following an earlier delisting last year from the Toronto Stock Exchange.
The reason for the firm's banishment from OTC, and having to resort to the Pink Sheets is simple: BakBone hasn't filed quarterly financial reports since September. In October, new auditors Deloitte & Touche (which replaced KPMG) discovered an error involving a one-time cash item of $6 million regarding the way it treated a preferred stock financing.
The company said it is banned from either exchange until it files the financial reports, but that likely won't happen until June. In a letter to shareholders dated Dec. 31, President and Chief Executive Officer Jim Johnson said the firm is conducting an analytical study that could take five months to complete.
The latest delisting doesn't affect the firm's operations in any way, nor hinder its capital situation, the company said. "We have no desire to raise cash now," said Chief Financial Officer John Fitzgerald, who noted that the company held a cash balance of $19 million as of December.
For the prior fiscal year, ended March 31, 2004, BakBone reported a net loss of $2.9 million on $27 million in revenues, compared with a net loss of $20 million on $17.9 million in revenues.
BakBone has about 200 employees worldwide, including 80 locally. Now trading under BKBO.PK, the stock closed at 89 cents on Feb. 22.
- - -
Mitek Reports Loss: Mitek Systems Inc., the Poway-based maker of check imaging and forgery detection software, reported a net loss for its first quarter ended Dec. 31 of $900,000 on revenues of $1.3 million. That compares with a net loss of $1.1 million on revenues of $1.7 million for the like period in the prior fiscal year.
For FY 2004, which ended Sept. 30, 2004, Mitek reported a net loss of $3.8 million on revenues of $5.2 million. For the prior fiscal year, it had a net loss of $2.5 million on $11.6 million in sales.
Mitek, which was delisted in March from Nasdaq because it fell below $2.5 million in shareholder equity, is still probably about six months away from restoring its equity to that level, said John Thornton, president and CEO.
The firm took a step toward that goal last year by selling off a money-losing unit, Checkquest, to the John Harland Co. It is also seeing increased sales on a new forgery detection product that has been purchased by Bank of America and Wachovia Bank, Thornton said.
Traded on the OTC Bulletin Board under MITK.OB, it closed Feb. 22 at 38 cents, giving it a market cap of about $4.3 million.
- - -
PriceSmart Says Adios To Mexican Stores: PriceSmart Inc., the San Diego-based operator of warehouses club stores outside the United States, said it closed three stores it jointly owned in Mexico with Grupo Gigante. Chairman Robert Price said the joint venture will continue to hold certain real estate assets with Gigante, and that the closing of the money-losing stores "should not result in any significant book loss for PriceSmart."
In an earlier financial report filed this month, PriceSmart said it raised about $47.8 million in a common stock offering of some 6.8 million shares that was completed Jan. 24. The firm is also planning another stock offering this year at $8 per share.
Traded on Nasdaq as PSMT, it closed Feb. 22 at $7.56, giving it a market cap of $132.5 million.
- - -
Ticker Takes: Path 1 Network Technologies Inc. (Amex: PNO) said it secured private investments of $2.8 million, led by Gryphon Master Fund, LP Spescom Software Inc. (OTC: SPCO) reported revenues for its first quarter ended Dec. 31 of $1.7 million, down 19 percent from the prior year's first Websense (Nasdaq: WBSN) was named to Forbes Magazine's Top 25 Technologies Companies list for the second straight year.
Send any news on locally based public companies to Mike Allen at mallen@sdbj.com. He can be reached at (858) 277-6359.