San Diego People
Monday, February 14, 2005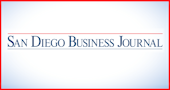 Executive Spotlight: Veronica Telmosse
The 2005 president of the San Diego Association of Realtors is Veronica "Roni" Telmosse, assistant manager of Coldwell Banker Residential Brokerage in Del Mar. Telmosse will represent the third-largest Realtor association in California, with 9,025 individual and corporate members. Telmosse has been in real estate for more than 30 years, having previously operated her own real estate firm in Colorado. Telmosse also previously managed three real estate offices with more than 100 agents in Rancho Santa Fe. Telmosse formerly served as the 2004 president-elect of SDAR, a director of the California Association of Realtors and SDAR, and past state president of the Women's Council of Realtors. Telmosse is a lifetime member of the National Association of Realtors Political Action Committee and a past recipient of the Omega Tau Rho award given by the National Association of Realtors for volunteer service to the industry.
Awards and Recognition
The Associated General Contractors of America, San Diego chapter presented Allison Beall, client relations director for the construction law firm of Perkins & Miller, LLP, with the AGC Affiliate of the Year-Individual award. Beall has worked closely with the AGC, San Diego chapter for the last two years and is recognized for her contribution and dedication to the association's members and their goals. Beall was recently appointed as the chairwoman of the meetings and events committee within the AGC and serves as the public relations chairwoman for the American Subcontractors Association. The Service Industry Advertising Awards awarded Allan Wash and his team at Wash Creative with the Television Advertising Gold Award for their work on Metropolitan Transit System's "Traffic Dance" commercial. SIAA recognizes advertising creative excellence of the service industries. "Traffic Dance" was also recognized as the key component in the American Public Transportation Association's grand prize, "Best Campaign 2004," for the MTS campaign.
Banking and Finance
Georgia Widmark has been promoted to lending manager with San Diego Metropolitan Credit Union and will oversee the day-to-day operations of the lending department. Nena Diaz was promoted to real estate lending supervisor. North Island Credit Union recently announced several corporate promotions for 2005. Kathy Parker was promoted to executive vice president, branch administration. Jeff Stone was promoted to executive vice president, business services. Michael Grundon, who was instrumental in the development of the credit union's Enterprise Information Management system, was promoted to first vice president, asset/liability management, finance division. Bob Reck was promoted to first vice president, business services development officer, lending division, and will continue in his role as senior commercial real estate lender. Scott Williford was promoted to first vice president, relationship development/e-commerce manager, marketing/member relations division. Laurel Cruz was promoted to vice president, branch manager at the La Mesa office. Susan Skillman was promoted to vice president, branch manager of the South Bay office. Sinman Herde was promoted to assistant vice president, recruitment and retention manager. Kimberly Smith was promoted to assistant vice president, loan administration analyst. Alejandro Armstrong and Michelle Brega recently joined the management team at Mission Federal Credit Union. Armstrong is the new vice president of marketing. Brega will manage Mission Federal's community relations and public relations efforts, advancing the outreach, partnership and business development objectives of the company.
Construction and Design
Wayne Hickey was promoted to chief executive officer with Roel Construction Co. Hickey has been with Roel for 13 years and has 29 years of experience in the construction industry. SGPA Architecture and Planning has hired Charles Field III as a senior project manager for the San Diego office. In his new role, Field will focus on the retail, mixed-use and senior living industries and will be responsible for marketing, contract administration, construction documents, construction administration, specification and entitlement research and development. Dowling Construction appointed Glenn Fricke and Richard Nichols to its construction management team. Fricke will serve as project manager. Nichols will assume the role of a project superintendent. Lankford & Associates, Inc. promoted Mary Pampuch to executive vice president and Robert A. Henry to chief financial officer and secretary-treasurer. Burkett & Wong Engineers promoted Thomas A. Newsom, Christie A. Radder and Paul H. Klingenberg to principal associate. Steve Shirley has been promoted to president/CEO of University Mechanical & Engineering Contractors, Inc. Shirley has been with University Mechanical, a subsidiary of EMCOR Group, Inc., for more than 25 years, most recently serving as executive vice president and San Diego division manager.
Nonprofit
Big Brothers Big Sisters of San Diego County named Paul Palmer president/CEO of the organization for 2005. Palmer was originally hired as executive director of the agency in fall 2003. Darlene Marcos Shiley has been appointed to the Alzheimer's Association National Board as a member of the Development Committee. Shiley and her husband, Donald Shiley, a biomedical engineer, have funded various organizations committed to Alzheimer's research through their private foundation, including the Alzheimer's Association, UC San Diego Shiley-Marcos Alzheimer's Disease Research Center and the Salk Institute for Biological Studies.
High-Tech and Manufacturing
Chuck Hill has joined Continuous Computing Corp. as principal architect in the Office of the CTO. Hill has 27 years of experience in state-of-the-art system design. Hill previously served as a system architect at Motorola Computer Group. Suunto recently appointed Mike Dowse vice president and general manager for Suunto North America. Dowse is responsible for emphasizing promotions, public relations and advertising.
Restaurants, Hotels and Resorts
The California Restaurant Association has appointed Patrick Shipley as director of local government affairs for San Bernardino, Riverside, San Diego and Imperial counties. Shipley, who will be working out of CRA's San Diego office, has extensive experience in state and local politics, public policy and law.

Media and Marketing
Sharon Schoenberg has joined Formula as vice president of business development. Schoenberg will be responsible for driving Formula's growth by developing new business across all divisions. Schoenberg previously was president of her own fashion and lifestyle agency, 225 Public Relations, and served as director of public relations at Robert Stock Designs and Sass & Associates.
Miscellaneous
Sid's Carpet Barn recently hired Rik Goodman to serve as its new assistant manager. Goodman previously owned his own flooring practice for 25 years before joining Sid's Carpet Barn.
Real Estate
Chuck Wise, a senior vice president of GVA IPC, has been accepted into the Jay W. Levine Leadership Development Academy, a program established by the Certified Commercial Investment Member Institute. Wise is one of 15 CCIM designees throughout the nation to be accepted into the academy for 2005. Wise is the current CCIM regional vice president for region two, which includes California, Nevada, Arizona, New Mexico, Hawaii and Korea. Wise was also named CCIM Designee of the Year for the San Diego chapter in 2003. Janet Kirkby has joined Re/Max Heritage Homes as a real estate sales agent.

, Compiled by Sharon Gunderson