First Tenants Sign on at DiamondView Tower
Monday, February 7, 2005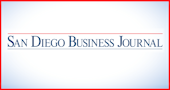 San Diego-based Cisterra Partners, LLC, a real estate development and investment company, announced that it finalized leases with its first two tenants in its planned 306,700-square-foot Downtown high-rise office building, DiamondView Tower.
Cox Communications and Comerica Bank will occupy space in the 15-story, $90 million office building just beyond Petco Park's right field fence at the corner of 10th Avenue and J Street. The lease amounts were not disclosed, but asking rents average $3.47 per square foot, according to CoStar Group, Inc., a provider of electronic commercial real estate information.
"We are actively pursuing new tenants, but with this commitment, (Cisterra will) definitely break ground in April," said Kraig Kristofferson, a senior vice president at New York-based CB Richard Ellis and one of the brokers who represented Cisterra.
DiamondView Tower is now roughly 40 percent leased, Kristofferson said.
Cox will occupy two of the lower floors of the tower for the TV studios of Channel 4 San Diego, which broadcasts most of the San Diego Padres' baseball games. The company's advertising sales group, San Diego Interconnect, operated by Cox Media, will share the space.
Comerica has signed a lease for two midlevel floors at DiamondView Tower, where the bank will consolidate its San Diego regional banking services. It also secured space on the first floor for a Downtown bank branch it plans to relocate. As part of the lease agreement, Comerica Bank will place its logo atop the building, according to Kristofferson.
Cox was represented by Jim Hughes and Zach Millrood of Equis. Comerica was represented by David Crabb, Herb Hafter and Craig DeMiranda of Trammell Crow Co. Kristofferson, Nelson Ackerly and John Gross of CB Richard Ellis represented Cisterra.
Cisterra expects to break ground on DiamondView Tower this spring and plans to complete it by January 2007.
DiamondView Tower received City Council approval in November. In December, Cisterra closed acquisition rights with the Padres for the site, and Prudential Real Estate Investors became a partner in the project.
- - -
Balboa Theatre Will Reopen: The Centre City Development Corp., which first announced its project to restore Balboa Theatre in October 2002, has now begun soliciting bids to initiate the selective demolition phase of the rehabilitation project. The theater, located Downtown at Fourth Avenue and E Street, was built in 1924 and is San Diego's oldest performing arts theater. After 20 years of the building sitting idle, vacant and unused, the theater will be rehabilitated into an active, multipurpose performing arts center to house performances by the San Diego Community Orchestra and the San Diego Children's Choir, among other groups.
Paul Westlake is the architect leading the $15.9 million project, which consists of replacing the building's electrical, plumbing and mechanical systems.
The theater will have 1,300 seats (as opposed to the 1,530 it had when it opened in 1924) and is expected to open its doors in the summer of 2007.
- - -
Market Mirrors Goldilocks: The real estate market will be "Not too hot. Not too cold," according to Northbrook, Ill.-based Grubb & Ellis Co., a leading provider of real estate services, in its 2005 real estate market forecast report.

"The San Diego market is expected to retain its solid footing developed through 2004, and will see sustained growth well into 2005 in many sub-markets among the office, industrial, retail, and multifamily sectors," according to Mark Doyle, the executive vice president and chief operating officer of the San Diego office of Grubb & Ellis/BRE Commercial.

The report forecasts average asking rents for Class A office space in San Diego will reach $2.87 per square foot in the fourth quarter of 2005, up from $2.61 per square foot in the final quarter of 2004. In general, industrial rents will remain flat in most San Diego sub-markets.

Nationwide, San Diego ranked No. 1 out of 50 U.S. metropolitan retail markets in the 2005 to 2009 real estate forecast. The Washington, D.C./Maryland/Virginia market came in second, followed by Los Angeles.

The nationwide office markets are in the midst of a "first inning recovery," according to the report. San Diego's office market ranked No. 7 out of 50 U.S. metropolitan areas. The Washington, D.C./Maryland/Virginia market ranked No. 1, followed by Riverside-San Bernardino, Los Angeles, New Jersey, Orange County and Las Vegas. San Diego did not rank in the top 10 U.S. industrial markets.

- - -
Crazy About Conversions: Sand & Sea Capital, Inc., a San Diego-based real estate company specializing in community redevelopment, announced two new condo conversion projects.

Through its affiliate, 1401 Reed Avenue, LLC, the company purchased a 20-unit, 14,108-square-foot property for $4.1 million. The project was financed by Pacific Trust Bank Lending with a $2.9 million loan.
Sand & Sea Capital also acquired On Florida Condominiums near Balboa Park through its affiliate, 3555 Florida Street, LLC, for $2.15 million. The company plans to convert the existing apartments into for-sale condominiums this spring.
- - -
$20 Million Deal: Aston Views Corporate Center in Carlsbad, a two-story Class B multi-tenant office building with 83,029 square feet of rentable space, was acquired for $20 million.
The buyers of the building were John W. McRoskey, as trustee of a family trust; Integrated Capital Enterprises, LLC; and Integrated Capital Technologies. The seller was Aston Views, LLC.
The property is in the 560-acre Carlsbad Research Center, a master-planned business park in Carlsbad, east of Interstate 5 near McClellan-Palomar Airport. The project is 100 percent leased to 13 tenants that occupy office space ranging from 1,650 to 30,411 square feet.
Kent Moore, Louay Alsadek and Rick Reeder with Grubb & Ellis/BRE Commercial handled negotiations on behalf of the buyer and seller.
Send residential and commercial real estate news to Heather Bergman via e-mail at hbergman@sdbj.com or via fax at (858) 571-3628. Call her at (858) 277-6359, Ext. 3114.