SeraCare Faces Lawsuit, Delisting
Thursday, December 29, 2005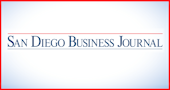 Oceanside-based SeraCare Life Sciences, Inc. is being sued by one of the nation's top shareholder litigators and faces delisting from the Nasdaq stock exchange.
San Diego law firm Lerach Coughlin Stoia Geller Rudman & Robbins LLP filed a lawsuit against SeraCare on behalf of shareholders who purchased their SeraCare stock between May 3 and Dec. 19.
The suit, filed in U.S. District Court for the Southern District of California, alleges that SeraCare overstated its financial results to bolster stock prices and failed to prevent certain board members from "exerting undue influence" on audit reporting.
The company's stock fell 52 percent , more than $10 , from $19.30 to close at $9.26 on Dec. 20 after it announced that an independent auditor raised concerns about SeraCare's financial statements and the honesty of the company's management.
SeraCare has received a warning from the Nasdaq that the biotechnology company could be delisted from the stock exchange Dec. 30.
The company has said it will fight the delisting by requesting a hearing with Nasdaq's Delisting Qualifications Panel. Securities of the company will remain on Nasdaq pending the outcome of a hearing.
The warning came as a result of the company not filing its annual report for 2005.
SeraCare manufactures biological products for diagnostic, therapeutic, drug discovery and research organizations.
Stock closed at $8.20 Dec. 28 and was rebounding slightly the morning of Dec. 29 at $8.78 per share, up 58 cents, or about 7 percent.
, Katie Weeks