Housing Starts Fall in November
Wednesday, December 28, 2005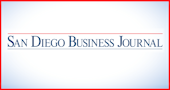 November housing starts in San Diego County dipped by 28.8 percent from the previous November farther than the overall statewide year-over-year decline of 17.2 percent during November.
The tally of new home building permits in the county stood at 366 during November 2005 vs. 514 during November 2004. The November count was also off from October's total of 482 by 24.1 percent.
For the year to date ending in November, the county's permits totaled 7,502, down 17 percent from 9,039 during the same year-ago period.
Across the state, there were 9,405 permits let during November compared with 11,465 during November 2004.
A director with the Burbank-based Construction Industry Research Board, Ben Bartolotto, said that a large number of permits issued in September, a month before more expensive energy efficiency requirements went into effect, were part of the reason for the slump.
However, the California Building Industry Association's president and chief executive officer, Robert Rivinius, said the softening raises concerns that the state's housing affordability crisis has now begun to put a damper on new construction.
While rapidly growing production failed to catch up with demand during past several years, the affordability gap may have widened to such a degree, he said, that production is going to decline.
The California Building Industry Association is a statewide trade association that represents about 6,500 businesses in the home building trades.
, Connie Lewis