SBA Names New S.D. Director Almost
Thursday, December 22, 2005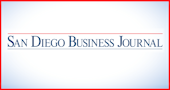 Ruben Garcia , an advocate for Hispanic real estate professionals and their clients , has been chosen to succeed longtime district director George Chandler as head of San Diego's U.S. Small Business Administration office.
Although news of Garcia's selection became public Dec. 21, the 58-year-old Army veteran will not officially be offered the job until a thorough background check required under federal law is completed, probably next week, according to district counsel Terrill Ashker. Chandler retired in September after running the local SBA office for the past 25 years. In the interim between Chandler's retirement and Garcia's hiring, the office has been headed by deputy district director Anthony Vigil.
The main duties of the head of the San Diego SBA office include overseeing financial and educational development programs for San Diego and Imperial counties.
In 1999, Garcia, a native of Los Angeles who has lived in San Diego for the past 15 years, founded the National Association of Hispanic Real Estate Professionals, a nonprofit trade group designed to increase homeownership among Hispanic consumers.
Garcia has also held numerous management positions during his business career, including stints with the Atlantic Richfield Co., Texaco, Clark Equipment and Caterpillar Corp.
In the San Diego SBA office's most recent fiscal year, which ended Sept. 30, the federal government reportedly guaranteed 1,400 loans for $400 million made by banks and non-bank lending partners, a 25 percent increase over fiscal year 2004.
, Jessica Long