Chalker Picks Up State Appointment
Thursday, December 22, 2005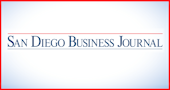 John Chalker, managing director for San Diego-based LM Capital Group, LLC, was appointed to the California Transportation Commission by Gov. Arnold Schwarzenegger.
The nine-member commission is responsible for programming and funding several billion dollars annually for transportation projects throughout the state in partnership with the state's Department of Transportation and regional transportation agencies.
Chalker is a founding member and former chairman of the Alliance in Support of Airport Progress in the 21st Century, also known as ASAP21, a nonprofit group advocating the building of a new airport for the San Diego region. He has also been active with the San Diego Regional Chamber of Commerce and served on the chamber's board of directors for the past nine years. He also serves on the board of the San Diego World Trade Center.
A co-founder of LM Capital with Luis Maizel, Chalker oversees investment strategies in fixed income instruments for institutional clients. The firm manages about $2.1 billion.
, Mike Allen