Rubio's Chief Steps Down
Wednesday, December 21, 2005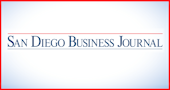 Ralph Rubio is back in his old job: chief executive of the fish-taco eateries that bear his name.
Sheri Miksa resigned from her job as president and chief executive of Carlsbad-based Rubio's Restaurants Inc., as well as from her director's seat Dec. 19, the company announced.
Rubio, the restaurant chain's co-founder and chairman, has taken the chief executive's job for the interim. The company announced it has started a search for a new chief executive.
Miksa , who previously held leadership posts at Seattle Coffee Co., LSG Sky Chefs and Taco Bell , arrived at Rubio's in 2002 and was promoted to chief executive in November 2004. She will serve as a consultant to the company for the next six months, the company said.
Rubio's reported net income of $828,000 on revenue of $36.5 million for the quarter ended Sept. 25. In the year-ago quarter, it reported net income of $1.3 million on revenue of $36.1 million.
The company trades on the Nasdaq as RUBO. Its stock closed at $8.50 on Dec. 21, after closing the previous day at $8.53.
The company runs more than 150 restaurants in six Western states.
, Brad Graves