Air Canada Returns to Lindbergh
Wednesday, December 21, 2005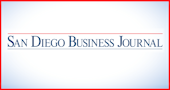 Air Canada launched new daily nonstop service to and from Vancouver International Airport in Vancouver, British Columbia, on Dec. 17. The airline will use Terminal 1 at Lindbergh Field.
Air Canada, which began serving Lindbergh Field six years ago, discontinued service with the suspension of its routes to Toronto in mid-2003.
Alaska Airlines also serves Lindbergh Field with daily service to Vancouver. According to the San Diego County Regional Airport Authority, 80,000 passengers fly between San Diego and Vancouver annually, while some 245,000 passengers fly between San Diego and Canada. The new Air Canada service is expected to foster growth in tourism between the two markets and to serve the biotech, information technology, wireless telecommunications and other business sectors prominent in both destinations.
, Connie Lewis