Connect Honor Goes to Zable
Tuesday, December 20, 2005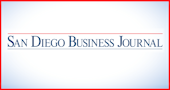 Walter J. Zable, who founded Cubic Corp. in 1951 and still works there at 90 years old, was named to Connect's Entrepreneur Hall of Fame on Dec. 20.
Zable becomes the second inductee to the hall, which celebrates San Diego's entrepreneurial heroes who paved the way for today's technological innovations and businesses. The first inductee was Irwin Mark Jacobs, founder of Qualcomm Inc., the successful wireless technology corporation.
Zable's contributions on both a business and community level were recognized by Connect, a nonprofit organization that acts as a technology accelerator, dedicated to creating and sustaining local science-based businesses.
"As a business leader, Walter J. Zable has made important contributions to the growth of technology in the areas of defense and transportation, and via his numerous civic activities, including service to both USD and UCSD, the San Diego Hall of Champions, the San Diego Crime Commission and the YMCA," said Duane Roth, Connect's chief executive officer.
Cubic, with more than 6,000 employees, reported total revenues for the past fiscal year of $804 million. Zable is a 40 percent owner of the company, and his stock holdings alone are valued at more than $200 million, making him among the area's wealthiest individuals, according to a recent San Diego Business Journal analysis.
The company has two business lines: manufacturing combat training systems and other technology equipment for the military, and making automated fare collection systems for global mass-transit systems.
A former collegiate and professional football player, Zable was voted into the College Football Hall of Fame in 1980.
Connect will induct Zable at a dinner Feb. 22 at the Estancia La Jolla Hotel & Spa.
, Mike Allen