Week in Review
Monday, December 19, 2005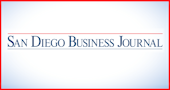 Quote of the Week
'The mentality of people up here is you get hurt, you recoup for a few days, then you go back to work. It's exactly what the workers' comp system was designed to do.'
, C.J. Buck, chief executive of Buck Knives, on why he's saving 90 percent on his workers' compensation insurance premium now that his factory is in Idaho. Click here for the story.
Monday, Dec. 12
Bench Seat: Gov. Arnold Schwarzenegger appointed Laura J. Birkmeyer, a Democrat from San Diego, to a judgeship in the San Diego Superior Court.
Birkmeyer, 46, has served in the U.S. attorney's office in San Diego since 1986 and is executive assistant attorney, responsible for narcotics policy and attorney hiring. She also served as deputy district attorney in the San Diego district attorney's office in 1986.
A graduate of the UCLA School of Law, she fills the vacancy created by the retirement of Judge Thomas Lavoy.
The position pays $149,160.
, Pat Broderick
Tuesday, Dec. 13
New To City Hall: San Diego Mayor Jerry Sanders added two more people to his new administration. Jay Goldstone, Pasadena's director of finance, was named San Diego's first-ever chief financial officer, while Rich Haas, now serving as assistant director of the county's Department of Environmental Health, will become deputy chief of public works. Sanders' prior appointments include Ronne Froman as his chief operating officer; Jo Anne Sawyer Knoll, head of the city's new ethics and integrity office; and Kris Michell, head of the community and legislative services office.
The day before, the San Diego City Council appointed Andrea Tevlin, deputy city manager for Phoenix, as San Diego's first independent budget analyst. Tevlin will make an annual salary of $180,000 in the post, which she will assume Jan. 17. The post is a new one under the strong mayor/council form of government, which will begin a five-year trial period Jan. 1.
, Pat Broderick
Wednesday, Dec. 14
Change At CCDC: The Centre City Development Corp. board elected Jennifer LeSar as chair, Fredric Maas vice chair, Robert A. McNeely treasurer, Gil Johnson secretary and Wayne Raffesberger director. LeSar, appointed to the board in 2002, replaces Hal Sadler, who resigned as chairman Dec. 9. She is investment manager and senior vice president at Bank of America.
, Pat Broderick
Thursday, Dec. 15
Election Set: Gov. Arnold Schwarzenegger called for a June 6 election to fill the 50th District congressional seat vacated by Randy "Duke" Cunningham. Cunningham submitted his resignation Dec. 6, surrendering his House of Representatives seat after pleading guilty to charges of bribery and tax evasion.
, Brad Graves
- - -
Missing Link: San Diego Gas & Electric Co. submitted an initial filing with the California Public Utilities Commission in support of the Sunrise Powerlink, a major transmission line planned to run between San Diego and Imperial counties. The utility cited regional growth and increased energy needs among the reasons to build the transmission line. As planned, the line would stretch more than 100 miles and carry a price tag of $1.0 billion to $1.4 billion.
, Brad Graves
- - -
USD Index Declines: An index measuring San Diego's overall economic health dropped for the third consecutive month, but the declines were not significant or cause for great concern, according to the University of San Diego economics professor who compiles the data.
USD's Index of Leading Economic Indicators for San Diego County dropped 0.5 percent in October and 0.1 percent in September following a 0.1 percent decline in August.
However, Alan Gin, the USD professor, said the local economy is basically on a stable trajectory.
"The forecast is that San Diego County is likely to experience continued economic growth for the year ahead, although it may be a little slower than in recent years," Gin said in a report released Dec. 15.
The two-month report showed declines during both months in the number of building permits issued, the local consumer confidence index, and in the amount of help wanted advertising lineage.
The only component that was positive for both months was decreased claims for unemployment insurance.
Gin forecast that next year the San Diego area would see a net gain of about 17,500 jobs, and the unemployment rate would increase to 4.5 percent.
As of October, the county generated an increase of 15,800 jobs over the same period in 2004, according to the state's latest job report. The unemployment rate then was 4.4 percent.
, Mike Allen