Small Business Spotlight: San Diego Wine Co.
Monday, December 19, 2005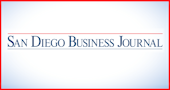 As owner of the San Diego Wine Co., Matt Francke likens his business to an adult candy store where the customers are always happy and the workday is fun.
Francke has owned the retail shop for only about a year but knows the business well, having spent seven years as the shop's assistant manager.
"Once I really got into this shop, that's when I knew that I wanted to own my own business because I loved my job," said Francke, who has worked in the wine industry for about 12 years.
Francke said that he first "fell in love" with wine when he was 21 and visited his aunt at her place of work, a Santa Barbara area winery. Although he is passionate about wine , both from a consumer and industry standpoint , timing was everything when it came to Francke's decision to become a small-business owner.
"It feels great to be in a position that I have always felt I could excel at," he said. "Although the idea of ownership was dangled from the first day of hiring, it did not appear that it would happen. I told my wife at the beginning of this year something was going to happen with my future in the business. I thought I was going to start my own business, but this opportunity popped up and I could not pass on something I helped grow over the past seven years."
VITALS
Name: Matthew G. Francke.
Title: Owner.
Company: San Diego Wine Co.
Company address: 5282 Eastgate Mall, San Diego 92121.
Company phone: (858) 535-1400.
Year founded: 1994.
Prior business experience: Assistant manager of the San Diego Wine Co. for seven years. Worked at Orfila Vineyards in Escondido helping manage the wine tasting room and retail store, as well as the wholesale division.
Average hours worked weekly: 65.
Source of startup capital: Refinance on home and business loan from Wells Fargo Bank.
2004 revenue: $4 million.
2003 revenue: $3.8 million.
Number of employees: 4.
Web site: www.sandiegowine.net.
BACKGROUND
Birthplace: San Diego.
Education: Bachelor of Arts in communication from San Diego State University, 2002; University of San Diego High School alum, 1987.
Age: 37.
Current residence: Sorrento Valley.
Family: Wife, Jonette; two sons, Reece, 3, and Caden, 1.
Hobbies: Watching and playing baseball with my boys, big fan of Chargers football, enjoying a fine meal on weekly date nights with my wife, and reading trade publications.
JUDGMENT CALLS
Reason for getting into business: My uncle, Pat McLaughlin, who has been in the business since 1958, introduced me to wine and I got caught up in the romance of wine at an early age.
How I plan to grow the business: We will maintain our current philosophy of having the best wines at the lowest prices but we will also pursue smaller more boutique wineries while taking advantage of a Web presence the previous ownership didn't value.
Biggest plus of business ownership: I have always played the role of the assistant manager and in all circumstances felt frustrated by not being able to take the lead position.
Biggest drawback: Losing time with my boys and downtime with my wife.
Biggest business strength: We get to know our customers' taste in wine and if we don't know, we ask them to give us examples of wines they like. We also taste every wine before we buy it, leaving the mediocre and junk for the other bottle shops.
Biggest business weakness: At this time, a lack of Web presence.
Biggest risk: Staying at the current business as long as I did (as an assistant manager). Smartest business decision: Buying this business.
Biggest business mistake: Not starting my own wine retail shop five years ago when a customer approached me with complete financing.
Toughest career decision: Entering the wine business when my uncle, whom I admire and is successful in the business, told me not to because of the anti-alcohol sentiment in this country at that time.
Biggest ongoing challenge: Conveying to wine distributors and brokers to take San Diego seriously as a wine market.
The most important part of my business: Offering our customers the best wines at the lowest prices while offering personal customer service.
My business works best when: My employees know what is going on in every aspect of the business. We are committed to conveying that we are a team and their participation in the business is an important part of our success.
Best way to stay competitive: Tasting every wine before we buy it and offering great values from $3.99 to $399 with incredible customer service.
How I measure success: I measure success by how much a person loves what she or he does for a living. If you are passionate about what you do, you will be successful and that does not necessarily translate into big money, but it does translate to happiness.
GOALS
Goals yet to be achieved: Playing the guitar. My sons idolize their Uncle Ryan Ferguson, who won Pop Album of the Year in the 2005 San Diego music awards. I figure I better start learning because both boys already have guitars.
My five-year business plan: Continue what we do, and create and maintain a fun educational newsletter and offer wine tastings every Saturday. I am also exploring buying private wine collections, which we have not done previously. It will give our customers the ability to acquire older vintages that we do not have access to through the normal distribution network.
I would sell my business only if: Someone offered me five times the amount I just paid. I would go somewhere else and create the same model while having the peace of mind of taking care of my family for years to come.
Guiding principles at work: Treat employees with the greatest of respect with their feedback and ideas and take care of our customers with great service.
Guiding principles in life: Never taking for granted that I am blessed with a tremendous support system filled with my family and close friends.