S.D. Companies Team Up to Present Health Fair
Monday, December 19, 2005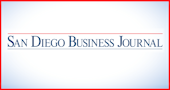 Fitness and beauty companies typically align marketing strategies with New Year's resolutions, but this year some San Diego health companies are stepping up their efforts before Christmas.
A group of eight health and beauty companies recently announced they'll hold a health fair and makeover contest.
Their purpose is to boost the image of fitness and the companies while doing the same for one lucky individual , to be announced at the health fair, set for noon to 4 p.m. on Jan. 28.
Oceanside-based Sift Workout is leading the effort by hosting the health fair at its facility and offering two months of unlimited personal training.
Short of a plastic surgeon, the comprehensive assembly resembles a team from the reality show "The Swan."
L.A. Weight Loss will offer the winner of the makeover an eight-week workout program. Also offering services are Arbonne International, a skin care product line, Skinsational Skin & Body Spa, Oceanside Family Chiropractic, Jacqueline Wilson, a hairstylist, and William Dern, a dentist. Photo Artistry by Petra will capture before and after photos.
At the health fair, companies will offer information and consultations, in addition to prizes for a raffle. The companies ask that candidates for the free makeover sign up by Jan. 19 at www.siftworkout.com/makeover.
- - -
UC Nurses Win Breakthrough Contract: The University of California nurses negotiated what they are calling their best contract in 20 years.
The more than 9,000 nurses in the statewide university system won a minimum 6 percent wage increase and beneficial language on nurse-patient ratios and pensions, according to the Oakland-based California Nurses Association, the state's largest nurses union.
The UC system agreed not to change pension amounts and to provide an internal outlet for nurses to voice concerns about ratio violations, said Joe Lindsay, staff director at CNA and chief negotiator on the contract, which was signed Dec. 9.
Negotiations between university administration and CNA spanned 11 months, according to the union.
- - -
FDA Fast-Tracks Hepatitis C Drug: Vertex Pharmaceuticals, Inc. recently received a fast-track designation from the Food and Drug Administration for its drug meant for the oral hepatitis C virus. The company, based in Cambridge, Mass., has a research and manufacturing operation in San Diego that employs around 200 people.
Fast-track designation is meant to expedite the review of new drugs intended to treat serious or life threatening conditions and that demonstrate potential to address unmet medical needs.
Vertex officials say the drug, known as VX-950, should qualify for faster consideration because they say it has the potential to shorten the duration of therapy.
Hepatitis C is a liver disease caused by a virus found in the blood. According to Vertex, founded in 1989, 3.4 million people suffer from the disease in the United States.
In 2005, drug companies have submitted 83 requests for fast-track designation, and the FDA has granted 54 of them, according to the agency.
- - -
Obesity Drug Could Hold Promise: San Diego-based Arena Pharmaceuticals, Inc. saw its stock soar almost 21 percent Dec. 13 after the company announced positive clinical results for its obesity drug.
With more than two-thirds of the American population considered overweight or obese by the Centers for Disease Control and Prevention, the market for a safe, effective obesity drug is huge , and largely untapped.
Arena's stock jumped in after-hours trading after the company announced the positive midphase trial results late in the day. The stock closed at $11.41 and was up by $2.39 to $13.80 late Dec. 13.
The company touts the unnamed drug as the "safe version" of Fen-Phen. Like Fen-Phen, which resulted in more than 10,000 consumer lawsuits after the drug was linked with heart troubles, Arena's compound works by stimulating a receptor in the brain that causes the patient to feel full. But Arena said its drug had no apparent effects on heart valves or pulmonary artery pressures during the trial.
The second-phase, double-blind clinical trial involved 469 obese men and women, and the drug was tested for safety and efficacy in humans. During the 12-week trial, participants lost between four and eight pounds. Scientists found the drug was generally well tolerated at different doses. One patient had a new onset seizure, but a neurologist ruled it was unlikely to have been caused by the drug.
Another experienced major depression, but the company said it was also unlikely caused by the drug because the patient had a history of depression. Between 26 percent and 31 percent of patients experienced headaches during the trial, while others had other mild side effects, such as nausea.
Drug companies are required to put their compounds through three phases of trials before submitting an application the Food and Drug Administration for review. Arena expects its obesity drug to enter phase three next year.
Analyst Adam Noah, of the Bay Area firm Merriman Curhan and Ford, expects Arena to end the year with about $130 million in cash.
"Today's positive phase two results in the obesity program are just another reminder of the high quality of Arena's drug discovery and development program," Noah said. "These findings are very encouraging and certainly point to continued development of this compound."
Contact Katie Weeks with health care and biotech news at kweeks@sdbj.com, or call her at (858) 277-6359.