New Steakhouse Positions Itself in the East Village
Monday, December 19, 2005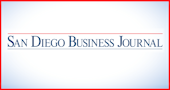 Fred Thimm Jr., the president and chief executive officer of the Palm Restaurant, an upscale, privately owned New York-based restaurant chain that celebrated its grand opening this month at Sixth Avenue and J Street, said the firm actually passed over that site when it had the chance to expand there several years ago.
Having long ago pinpointed San Diego as a desirable location, Thimm said the company "got close" to building a restaurant directly adjacent to the Oceanaire Seafood Room two blocks north a few years ago. But the firm ultimately bowed out of the deal.
Wanting to be closer to the hustle and bustle of the Gaslamp Quarter than the East Village, it passed on the historic Julian Building and additional space that was then devoted to a parking lot.
Not that Thimm isn't bullish on Petco Park's ability to influence neighboring development. He is. It's just that he, like many, became believers when they saw the stalled project, which officially broke ground in 2000, resume construction and stay on course in 2002. Now he thinks that area of town is just starting to take off.
"Some might say we're late comers to this area," Thimm said during an interview before the Dec. 6 opening. "But really we're newcomers. The ballpark's effect on San Diego is just beginning to be realized. It's way too early to gauge the economic impact it will have."
Indeed, Petco Park has spurred development of two hotels , the Omni and the Solamar , as well as the redevelopment of the Marriott Gaslamp Quarter, which was formerly the Clarion. Two more, the Hard Rock Hotel and the Marriott Renaissance, are under construction, and at least three new condominium projects are under development nearby.
December also saw the opening of the Stingaree nightclub across the street from the Palm.
Undaunted by competition from several other Downtown steakhouses, including Morton's The Steakhouse and Fleming's Prime Steakhouse and Wine Bar, Thimm said he expects the 9,167 square-foot, two-tier Palm to be a preferred place for business lunches, meetings and dinners. The dining room provides seating for 103, while a separate, private dining facility has seating for 105.
An advertised "power lunch" for $16.95 is guaranteed to be served within 45 minutes, or diners will receive a free entr & #233;e upon their next visit, he added.
Thimm also expects the Palm's bar to be a popular after-work watering hole for the business crowd.
The restaurant's walls are adorned with signature cartoon figures, the originals of which cover the company's first restaurant in New York. Caricatures of local personalities, politicians, agency heads and well-known businesspeople have been added.
Thimm said the new Palm, No. 30 in the chain, is expected to generate annual sales of $6.2 million by the end of its second full year in operation.
"We expect to serve 2 million covers (individual meals) a year," he added.
While some local restaurant critics have expressed fears that the heart of Downtown, including the Gaslamp Quarter, will take on the look of a shopping mall if too many chain establishments are developed, Steve Zolezzi, the executive vice president of the Food & Beverage Association of San Diego, doesn't envision that happening.
"I agree that there's a standardization with chains," Zolezzi said. "There's almost no difference between shopping malls across the country. Look at Horton Plaza or Fashion Valley. But if you look at Downtown and the Gaslamp Quarter, the vast majority of restaurants are independently owned.
"They get notoriety and that brings validity to the historic district and it brings people to that market. It's a plus. But there's a continuing market for high-end chain restaurants, like the Palm, that provide a good experience, and it's not like they saturate a market. There's usually no more than one of them in any town."
Carl Winston, director of San Diego State University's Hospitality and Tourism Management Program, agrees.
"People love brands because they imply trust," Winston said. "That's the critical reason behind their existence. So when someone travels, particularly conventioneers, they may look for someplace unique to dine. But most are not adventurous and they'd go to the Palm or Fleming's because they're predictable.
"I may operate a one-of-a-kind Carl's steakhouse, and while some of us want local flavor, others want a dining experience that they can trust. Those restaurants are a huge draw. That's why these chains exist in New York and San Francisco and Chicago, and in that sense San Diego is coming of age because it's also getting them."