Navy Fleet in Flux; Nassco Has Plenty of Work
Monday, December 19, 2005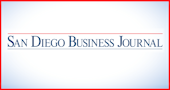 National Steel and Shipbuilding Co. stands poised to capitalize on U.S. Navy plans to reverse years of declining shipbuilding by increasing the fleet's size.
The company depends on the Navy for much of its work. Nassco announced Dec. 12 that it won a Navy contract that could be worth $200 million to the company.
Nassco, a subsidiary of Falls Church, Va.-based General Dynamics Corp., will be responsible for maintenance and repair of eight amphibious ships during the next seven years under the terms of the deal.
The Germantown, Comstock, Rushmore, Pearl Harbor, Odgen, Cleveland, Dubuque and Denver will be home-ported in San Diego during the contract's life.
The Navy ships are used to transport Marines and their equipment as well as launch and support landing craft and helicopters for amphibious assault missions.
The contract makes Nassco the sole prime contractor for amphibious ship repair on the West Coast.
"It's a tremendous benefit both for us and the Navy," said Stephen S. Clarey, a Nassco spokesman. "Many amphibious ships have their own mission-specific capabilities. By singling up, we're able to avoid duplicating the expertise."
The job will support 150 to 200 employees in the 4,200-person shipyard, Clarey said, but won't cause any new hiring.
The company looks for more Navy business as military officials begin reviewing the future size of the fleet.
The target fleet size is always in flux. In March, Adm. Vernon Clark, then the Navy's chief of naval operations, said the fleet could be as small as 260 ships and as large as 325.
In 2001, the Navy had plans for a 375-ship fleet. Four years earlier, officials had wanted a 305-ship fleet.
Adm. Michael G. Mullen, the Navy's new chief of naval operations, took office in July. He is reported to want a 313-ship fleet by 2020, with an increase in the number of ships that have a counter-terrorism focus.
Nassco officials have paid close attention as reports have trickled out since late summer about Mullen's plans to build the Navy.
"It portends a long and steady flow of work to this shipyard," said Nassco's Clarey.
And his plans reaffirm the need for an auxiliary ship force, Clarey said. That type of ship makes up a major portion of Nassco's current shipbuilding backlog.
The company has an eight-ship contract with the Navy to build the T-AKE class of support ships. If all options are exercised, the contract could be worth $3.7 billion to Nassco and would be the largest in company history.
"We were pretty pleased by his commitment," Clarey said. "The vision is great, but the proof will be in the budget."
In February, President Bush will release his 2007 budget. That's when businesses will learn how much support Mullen's plan has from the executive branch.
Clarey said Nassco expects funding for two more T-AKE ships to be included in the new budget.
Rep. Susan Davis, D-San Diego, has called for Bush to fully fund Mullen's vision.
"With global naval threats on the rise, this is a vital matter for America's national security, and the time to act is now," Davis said in a release. "The president simply must provide an adequate amount of funding in his budget submission to start fulfilling the Navy's ship requirements."