Light Rail Key to Region's Future
Monday, December 19, 2005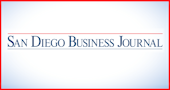 San Diego has grown from a small border town into a thriving metropolis of nearly 1.3 million people, complete with many distinct and unique neighborhoods, good environment and developing a diverse economy with good jobs.
Ask what's the biggest problem in San Diego, and you'll probably hear "traffic." Billions of dollars have already been invested in roads and transit in the San Diego region. We need to get the most out of our public transit system, making it more reliable, convenient and safe, while reducing traffic delays caused by congestion.
How will we commute in the future, when we can't build our way out of traffic congestion? During the next 30 years, we can expect to share our communities with more than a million new neighbors, have to create half a million more jobs and build at least 350,000 new homes.
Where will this demand come from? Our own younger generation of kids as they grow older, along with people attracted to our region's quality of life. We must find ways to maintain this quality of life; which encompasses safe and livable communities, affordable housing, an environment for creating competitive jobs and a transportation system that provides easy access that meets our communities' mobility needs now and in the future.
The San Diego region is in the midst of a housing crisis. Housing construction is not keeping pace with demand.
San Diego is regularly ranked as one of the top 10 areas with the highest priced and least affordable housing in the nation. The lack of available and affordable homes in our region is forcing many San Diego workers to find homes far from their jobs.
Much of San Diego's job growth has been in the northern half of the county, where home prices and rents are high, while less expensive homes are being built in the southern half of the county.
This jobs-housing imbalance leads to longer commutes, increased energy consumption, air pollution and traffic congestion. Major employers in the region report that housing and traffic congestion are the two biggest problems plaguing their employees, which is affecting work productivity and is causing excessive time away from home.
Homes being built in San Diego must be located near existing or planned transit stations that focus growth into mixed-use communities, areas that will be pedestrian- and bicycle-friendly. Allow easy connections from our homes to local shopping, public amenities such as parks and libraries and to our jobs that eases commuting for those who live throughout the region.
San Diego must continue its investment in an expanded transportation infrastructure that results in decreased freeway traffic and fully integrates our transportation system. We need to provide a level of access, connectivity and convenience, that will continue to make the San Diego Trolley our preferred choice for daily commutes and we have to invest in the future, with the high-speed maglev train that will support our regional transportation needs well into the future.
This transportation network, when completed, will be a fully integrated alternative that decreases dependence on both the airplane and the automobile for our daily transportation needs.
In the interim, San Diego needs to move ahead with the 11-mile extension of the midcoast trolley project that extends trolley service from the Old Town Transit Center to the University City community that will serve UC San Diego and University Towne Centre. Plans should be developed to extend the midcoast trolley to connect with the Sorrento Valley Commuter Rail Station, where there is a heavy concentration of jobs for the region.
Smart growth for the San Diego region will consist in better connections to our freeways and expanding our long-term transit needs. We will continue to utilize the San Diego light rail trolley system that connects us to our homes, schools, work, shopping and other activities. We must begin the process of building the high-speed maglev system, which will connect our major transportation centers with our Southern California regional airports into a regional transportation network.
The ultimate success will be measured by how well we implement smart growth as our communities are developed and redeveloped over time. We want to continue to maintain our environment, our open spaces and provide adequate sources of water and utilities for our needs without requiring an expensive new airport to be built for the region.
Rodney D. Tilk is a San Diego resident.